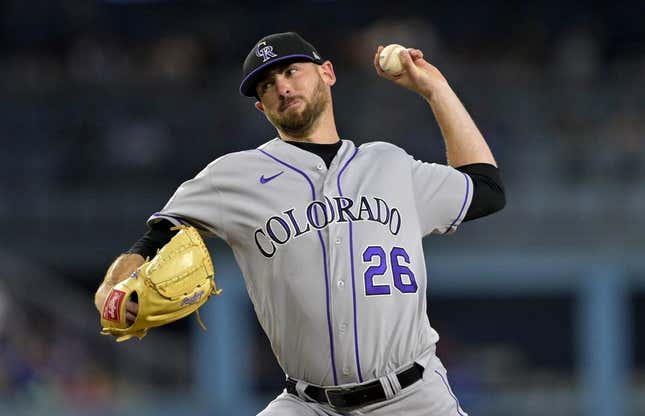 The Colorado Rockies have not won consecutive games in August and haven't had a three-game winning streak since mid-June.
How running an NFL team is like running a restaurant | Chef Emeril Lagasse
Those two unfortunate facts continue into the finale of a three-game series against the Arizona Diamondbacks on Wednesday afternoon in Denver.
Colorado is on pace to lose 100 games for the first time in franchise history, and the road is tough in trying to avoid that century mark. The Rockies have a schedule loaded with contending teams over the final six weeks, so winning the series against Arizona is important to avoid triple digits.
It might help that the Rockies are sending a revitalized Austin Gomber (9-9, 5.33 ERA) to the mound in the finale while the Diamondbacks will counter with rookie Slade Cecconi (0-0, 2.84).
Arizona rallied in the ninth inning on Tuesday night to pull out an 8-5 win and avoid taking an 11th loss in 13 games. The Diamondbacks also prevented Colorado from clinching its first series win against an NL West opponent this season.
The Rockies' last series win within the division was Sept. 9-11, 2022, against Arizona.
Gomber has been Colorado's best pitcher since June 25, going 5-2 with a 2.72 ERA in nine starts. He took a road loss against the Los Angeles Dodgers on Friday despite allowing just two runs in five innings.
He has been especially effective at home, where he has posted a 3.60 ERA in his past five starts — tossing at least five innings in each of those outings.
Part of Gomber's turnaround — he was 0-4 with a 12.12 ERA in mid-April — was acknowledging the weight of being a key piece in the Nolan Arenado trade in 2021 was impacting his performance. That proved cathartic for him.
"Talking about all of that Nolan trade stuff was definitely helpful," Gomber said recently. "I felt a lot of pressure to bring value to the trade. I had never really talked to anybody about it. I had never been traded before, but I think there is a difference to just being traded, compared to being traded for a franchise icon."
Cecconi will make his second start and third appearance since having his contract selected on Aug. 2. He tossed 4 2/3 innings while starting in his major league debut that night, allowing two runs in no-decision against the San Francisco Giants.
He pitched 1 2/3 scoreless innings out of the bullpen on Friday against the visiting San Diego Padres.
Cecconi isn't the only Diamondbacks player getting his first taste of the majors. On Tuesday night, Bryce Jarvis made his major league debut with three innings of one-run relief. His father, former major-leaguer Kevin Jarvis, was on hand to witness the occasion.
"There were some nerves in the 'pen for sure but they all kind of went away as soon as I stepped on the field and made that run in (from the bullpen)," Bryce Jarvis said. "When I took the rubber, it all kind of melted away."
—Field Level Media