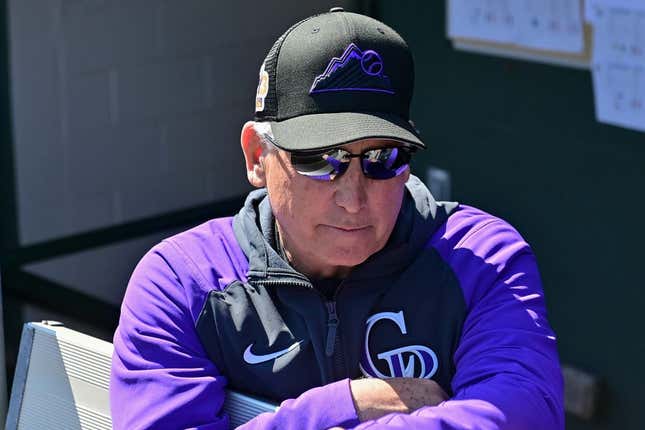 Excuse Colorado manager Bud Black for scoreboard-watching Saturday night as the Rockies look for a third straight road win over the San Diego Padres to open the season
Chris Paul should ride the bench next season | Keep it a Buck(et)
Black is a graduate of San Diego State. The former Aztecs pitcher is a member of San Diego State's Hall of Fame.
On Saturday afternoon, San Diego State plays Florida Atlantic in the Aztecs' first visit to the NCAA basketball Final Four. Black, who lives in San Diego during the offseason, has Aztecs basketball season tickets.
The Rockies and Padres will start the third game of a four-game series around the time that the Aztecs-Owls game might be ending
"I'm thrilled for all of us," Black said of San Diego State fans. "To be here when the Aztecs are in the Final Four, it's awesome. ... It's such good stuff."
Last Sunday, Black was managing the Rockies in a spring training game in Arizona while the Aztecs were defeating Creighton to reach the NCAA championship round
"Full disclosure," Black said. "I saw the second half up to the 11-minute mark. But there were some Rockies fans behind our dugout who knew my connection to San Diego State and kept giving me updates.
Black won't have to look hard to follow the Aztecs on Saturday. The Padres are having a watch party at Petco Park before the first pitch of the baseball game
Then, the Padres will try to earn their first win of the season as right-hander Michael Wacha makes his team debut against Rockies right-hander Jose Urena
"We haven't hit our stride," San Diego manager Bob Melvin said Friday night after his team fell 4-1 to Colorado. "It's a small sample. We wanted to get off to a good start and it hasn't happened."
In the two games, the Rockies have outscored the Padres 11-3 and have out-hit them 26-12. Colorado has four homers, and San Diego has none
Xander Bogaerts and Ha-Seong Kim each have two singles and two doubles for the Padres. The rest of the team is a collective 4 for 48 (.083)
Wacha, 31, signed with the Padres as a free agent in February after going 11-2 with a 3.32 ERA and a 1.115 WHIP in 23 starts for the Boston Red Sox last year. He held opponents to a .233 batting average while striking out 104 and walking 31 in 127 1/3 innings
In three spring training starts for the Padres, Wacha posted a 3.97 ERA over 11 1/3 innings
Wacha is 1-2 in his career against the Rockies with a 5.18 ERA in 33 innings over seven games (six starts). He has not faced the Rockies since 2019 when he was pitching for the St. Louis Cardinals
Urena, 31, was 3-8 with a 5.14 ERA and a 1.567 WHIP in 17 starts for the Rockies last season. He was 0-1 with a 3.60 ERA in two starts against San Diego in 2022
Urena owns a 1-4 record and a 3.72 ERA in seven career starts against the Padres. He is 1-0 with a 3.38 ERA in three starts at Petco Park
--Field Level Media