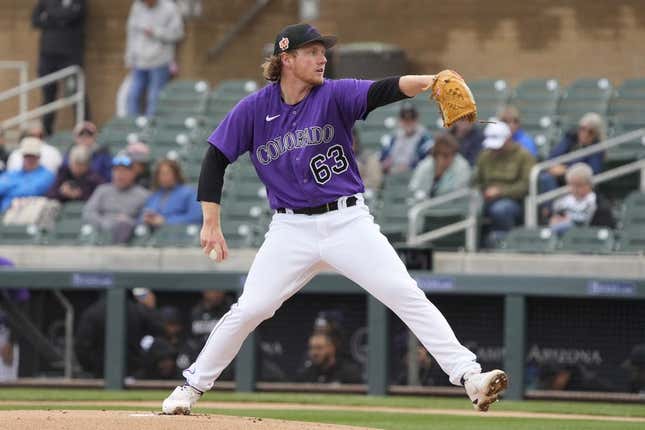 Noah Davis' first major-league start won't come under the easiest of circumstances.
With ace German Marquez on the injured list with forearm inflammation, the Colorado Rockies plan to call up Davis from Triple-A Albuquerque to start Sunday afternoon's game at Seattle
"Nothing bad, just inflammation," Marquez said. "They're going to give me a little bit of time to rest."
The Rockies will try to avoid a sweep in the three-game, interleague series against right-hander Luis Castillo (1-0, 1.02 ERA), Seattle's No. 1 starter
Colorado has lost four straight games and six of its past eight.
Castillo has allowed two runs on nine hits through his first three starts this season, spanning 17 2/3 innings. He has struck out 17 and walked four.
The Mariners wasted another strong start by Castillo last Monday in Chicago, losing to the Cubs 3-2 in 10 innings
"Luis Castillo continues to do what we've seen him do so far this year -- and really, since he's had a Mariners uniform on," Seattle manager Scott Servais said
Surprisingly, Castillo is 0-3 with an 11.30 ERA in three career starts against Colorado.
Davis, a 25-year-old right-hander, was 0-0 with a 4.26 ERA in three games for Albuquerque this season.
Davis made his major league debut for the Rockies last Oct. 5 at Dodger Stadium, pitching one inning of relief and giving up two runs on three hits. One of those hits was a solo homer by Cody Bellinger, the first batter Davis faced
The Mariners won their third straight game Saturday night, 9-2, as Eugenio Suarez hit a solo homer and Julio Rodriguez added a three-run triple in a five-run fourth inning
"When the lineup flips over, the guys at the top can do some damage," Servais said.
Rodriguez, the reigning American League Rookie of the Year, hasn't been getting much to hit this season, but he lined an outside pitch into the right-field corner to clear the bases. He later added a fourth RBI on a groundout.
"Every time they make a mistake, we've got to make them pay. I feel like that's where you've got to make your money," Rodriguez said. "There's a lot of good guys out there, and they have a lot of good control, but they're human just like we are. Being ready for those mistakes is going to lead you to better results."
Rockies starter Ryan Feltner cruised through the first three innings but couldn't make it out of the fourth
"For Ryan, that's where a younger pitcher with less service time needs to grow, to really understand the point of the game and the importance of throwing strikes and challenging the bottom of the order," Rockies manager Bud Black said. "These are hard lessons, but again, you saw what he's capable of doing with the stuff, but you've got to continue.
Seattle added four unearned runs in the sixth to pull away. The inning included an error, two bases on balls and two batters hit by pitches.
"These are guys trying to make plays, right?" Black said. "You know, they're trying to maybe push it a little bit too much."
--Field Level Media