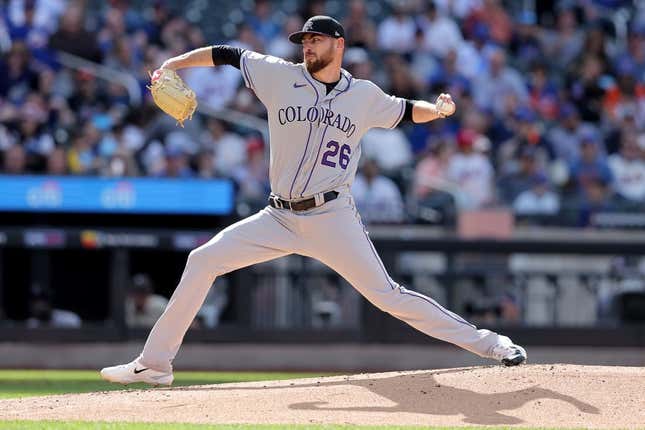 Rookie shortstop Ezequiel Tovar homered and finished with a career-high three hits Saturday afternoon for the visiting Colorado Rockies, who beat the New York Mets 5-2 in the middle game of a three-game series
'Soccer fandom is full of gatekeepers' says Ted Lasso actor Brendan Hunt
The Rockies have won five of six and seven of 11. The Mets have lost four of five and 11 of 14
Tovar singled and scored the Rockies' second run in the second before he hit a two-run homer in the sixth and doubled in the eighth. The 21-year-old entered Saturday with four multi-hit games in his first 39 big league appearances
Catcher Elias Diaz had a pair of RBI singles for the Rockies while Charlie Blackmon lofted a second-inning sacrifice fly
Austin Gomber (3-4) earned the win after allowing two runs on five hits and two walks while striking out three. The left-hander has given up three runs over 17 innings in his last three starts while lowering his ERA from 12.12 to 6.75.
Jake Bird struck out three over two scoreless innings and wriggled out of a two-on, two-out jam in the eighth by striking out pinch-hitter Jeff McNeil on three pitches. Pierce Johnson then earned his fifth save by striking out two during a one-hit ninth.
Pete Alonso (first inning) and Francisco Lindor (third inning) had run-scoring groundouts for the Mets, who have scored a total of just four runs in their last four games
Lindor and Brandon Nimmo had two hits apiece while rookie catcher Francisco Alvarez reached twice via a single and a walk out of the No. 9 spot in the New York lineup.
Tylor Megill (3-2) took the loss after giving up three runs on six hits and three walks while striking out four over 4 2/3 laborious innings. The right-hander, who opened his outing with six consecutive balls, also plunked Kris Bryant in the first.
--Field Level Media