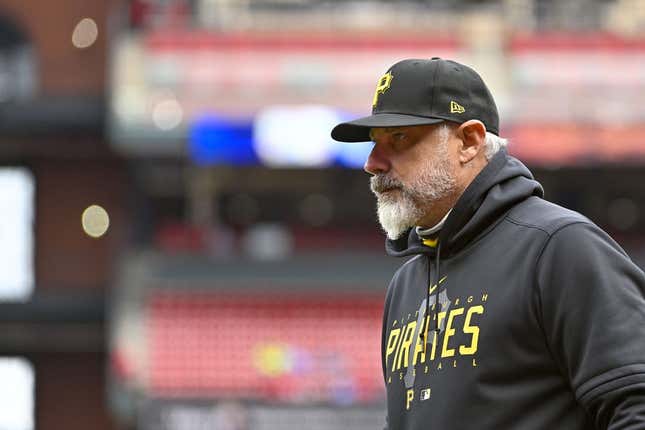 The surging Pittsburgh Pirates are looking for their second straight series sweep when they entertain the Cincinnati Reds on Sunday
Air Jordans are more American than McDonald's French fries | Deon Cole's Ultimate Sports Fantasy
The Pirates have taken the first three games of the weekend set after outscoring the Colorado Rockies 33-9 over three games earlier in the week. They're going for their third sweep of the year
The six-game winning streak is the Pirates' longest since they won 11 in a row in July 2018, and they have a 43-15 run advantage in the six games after Saturday's 2-1 victory
Saturday's game came hours after general manager Ben Cherington announced that the Pirates had signed manager Derek Shelton to a contract extension. Terms were not disclosed, but Shelton's current deal was set to expire after this, his fourth season
Before this year's hot start, Shelton was 142-242 in his first three seasons, including two 100-loss seasons.
"We still have work to do and room to grow, but it shows that there's faith in what we're doing and how we're doing it, and I really appreciate that," the 52-year-old Shelton said.
His players apparently appreciate him.
"He's kept it loose for us," Pittsburgh third baseman Ke'Bryan Hayes told AT&T Sportsnet. "He wants us to have fun, but he also wants us to get that work in, play hard every day. That's what we've been doing."
Things have been going almost equally as poorly for Cincinnati, which has lost five straight and six of seven. The Reds have been held to six runs in the first three games of this series, and will be trying to avoid being swept for the second time this month
"You go through these things. You face adversity challenges. You find out how good you are during these times," Reds manager David Bell said. "That's how we're going to approach it.
In the series finale, Cincinnati right-hander Hunter Greene (0-0, 4.24 ERA) is scheduled to face Pittsburgh right-hander Vince Velasquez (2-2, 5.12 ERA).
Greene, perhaps the most promising of the Reds' three second-year starters, has had an interesting week
On Monday, he was pulled from a game against the Tampa Bay Rays after three innings because of a right tibia contusion, the result of getting hit by a comebacker by Yandy Diaz. The next day, Greene signed a six-year, $53 million contract extension.
"I'm fired up," Greene said of the extension. "I want to be on the forefront (of) returning to winning in Cincinnati. We have a lot of great players here and coming through the system."
First, he has to return to the mound. There was relief when X-rays showed no break to Greene's leg.
"It would have been foolish to go back out (Monday) and just use my arm. I'm just happy the X-ray was negative," he said.
Greene is 0-1 with a 2.16 ERA in three career starts against the Pirates, including a no-decision on Opening Day this year when he allowed three runs and five hits in 3 1/3 innings, with eight strikeouts and three walks
Velasquez has won his past two starts, most recently giving up three runs in six innings Tuesday in the Pirates' 5-3 win at Colorado
Against the Reds, Velasquez is 0-2 with a 6.00 ERA in six career appearances, four of them starts. That includes a loss April 2 at Cincinnati when he gave up three runs in 4 2/3 innings
--Field Level Media