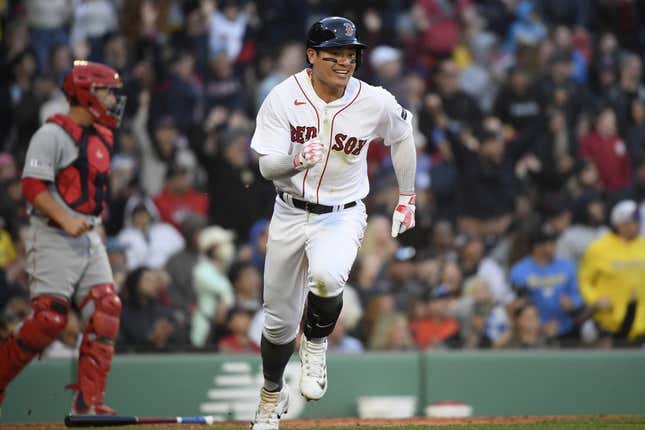 Following a four-game losing streak, the Boston Red Sox found a way to win back-to-back games against the Los Angeles Angels to get back on track
Bass' ERA stinks, but not compared to who he is off the mound | Worst of the Week Countdown
Boston will look to keep rolling on Sunday when it plays host to the Angels in the third game of the teams' four-game series
With Saturday's 9-7 win, the Red Sox have come from behind in five of their first seven victories this season, while the team has yet to have a starting pitcher record an out in the sixth inning
"It's been tough," Boston manager Alex Cora said. "We were able to survive, but it's kind of too soon to survive, to be honest with you. We've got to be better early on. We will be."
Garrett Whitlock (0-1, 9.00 ERA) hopes to shake off a tough Tuesday start at Tampa Bay with some home cooking at Fenway Park, where he is 7-2 with a 2.84 ERA in 41 career games (five starts).
The Red Sox have averaged 6.1 runs per game at home this season, but it took a pair of catcher's interference calls loading the bases and a two-run single by Yu Chang in the eighth inning to nab Saturday's game
Chang, who also homered and finished the game with four RBIs, was 0-for-16 this season entering Saturday.
"I'm so happy that the team gave me the opportunity to play every day," Chang said through a translator. "I didn't do well in the beginning, but (Saturday), I just got the chance, and with that homer, I was so happy."
Whitlock, who made nine starts while also working in a relief role last season, allowed five runs on a career-high three homers in five innings in his last outing.
Two of his 2022 starts came against the Angels. He allowed six runs and struck out 14 across nine combined innings
While the Red Sox have shown the ability to come back, it's been a different story for the Angels, who have led in six of their first seven losses
"We were in position to win a game when our starter wasn't at his best, and we just didn't finish it," Angels manager Phil Nevin said of Saturday's setback
Tyler Anderson lasted four innings and allowed six runs, but four Angels relievers combined to allow three, only one of which was earned
Reid Detmers (0-0, 5.59) will be tasked with trying to get Los Angeles' pitching staff in a rhythm.
Detmers is seeking his first career win against the Red Sox in his third-ever start against the team, though he worked 4 1/3 scoreless innings in a home outing against Boston on June 8 of last season
Despite logging 12 strikeouts in 9 2/3 innings, Detmers has yet to record a decision this season. He fanned five across five innings last Sunday against Toronto, a game Los Angeles lost 12-11 in 10 innings.
"We've got a good squad," Detmers said after his last start. "We're never going to back down."
The Angels hope that mentality carries into Sunday as they look to avoid losing the series
Saturday was a milestone-filled day for Los Angeles, as shortstop Zach Neto made his major league debut, Mike Trout hit his 300th career double and Shohei Ohtani extended his on-base streak to 36 games, extending the active league-leading mark.
--Field Level Media