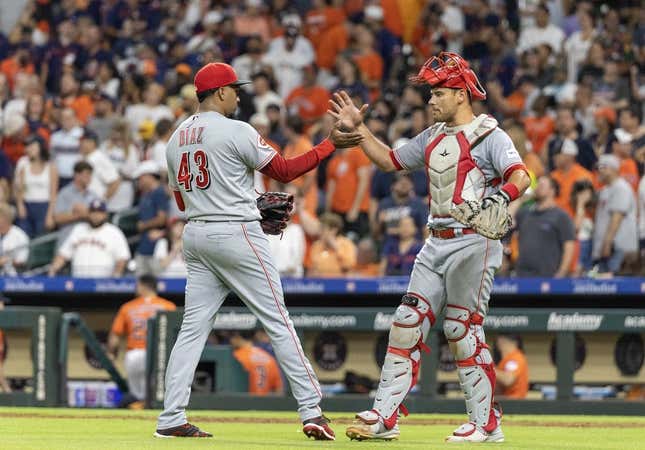 Cincinnati closer Alexis Diaz, who owns the majors' longest current streak of converted saves, might not get a chance to add to that stretch when Reds play the second game of a three-game series against the host Houston Astros on Saturday
How running an NFL team is like running a restaurant | Chef Emeril Lagasse
Diaz extended his tally to 23 in a row, dating back to last season, when he sealed Cincinnati's 2-1 win in the series opener on Friday.
He closed the victory despite surrendering a run in the ninth inning when Jose Abreu led off with a double and later came home on Jeremy Pena's groundout. Diaz allowed another baserunner and didn't complete his 18th save of the season until he retired pinch hitter Corey Julks, who represented the winning run, on a fly ball to center.
Diaz has appeared five times in the Reds' current six-game winning streak, logging four saves in that span. Cincinnati manager David Bell hinted that the right-hander might be due for a rest
"It's been a run now of pitching a lot, so I'm glad he's experienced it," Bell said. "They've been big games for us. It's been a big week for us. But I also have to take care of him, and I'm fully prepared to do that. We'll make sure that he's taken care of.
"He pitched great and he handled it very well. It is good to experience pitching as much as he has in big games."
Hunter Greene (1-4, 4.01 ERA) has the starting assignment for the Reds on Saturday
The right-hander did not factor into the decision during the Reds' 4-3 victory over the St. Louis Cardinals on Sunday after allowing three runs on six hits and two walks with nine strikeouts over 5 1/3 innings
Greene, who will oppose the Astros for the first time in his career, had skipped his previous turn in the rotation due to right hip stiffness. He is 1-1 with a 2.96 ERA and 38 strikeouts over his past four starts and 24 1/3 innings
Right-hander Brandon Bielak (3-3, 4.01 ERA) is the scheduled starter for Houston on Saturday. He was the pitcher of record in the Astros' 5-0 loss to the Cleveland Guardians on Sunday after allowing five runs on nine hits and two walks with four strikeouts over five innings
Bielak has logged at least five innings in six consecutive starts, the longest such streak in his career. He is 4-6 with a 5.05 ERA over 15 career starts spanning four seasons. Bielak has never opposed Cincinnati.
The Astros have dropped seven of 10 games since they were last 12 games over .500, matching their season-high benchmark, on June 5. Of those defeats, four have come by one run and two occurred in extra innings, with the Astros sporting an 0-5 mark in extra-inning affairs this season. Houston scored two or fewer runs in six of those seven losses
"We've got to keep fighting and fighting and hope that our pitching stays the same until our offense (comes around)," Astros manager Dusty Baker said
"One hit away from winning a game and we need a couple of big innings. Right now we're out of sync. It seems like when we pitch well, we don't hit, and when we hit, we don't pitch well. We've got to fight through this. It's simple."
--Field Level Media