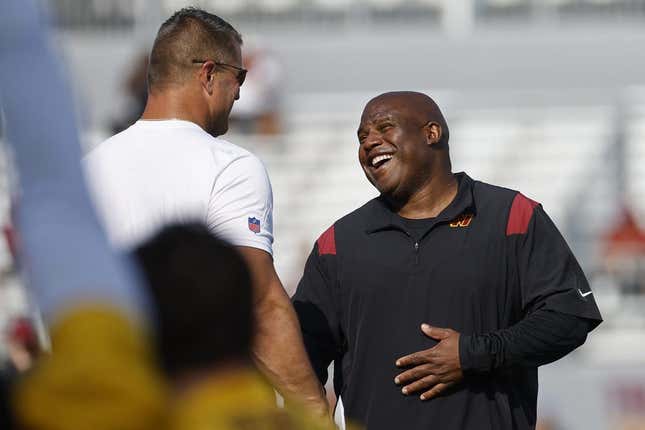 A new level of intensity from the new commander over the Washington offense has players "a little concerned," according to Commanders head coach Ron Rivera
How running an NFL team is like running a restaurant | Chef Emeril Lagasse
Rather than discuss their questions with Bieniemy, a vocal and fiery leader hired away from the Kansas City Chiefs, players have taken their issues to Rivera early in training camp
His advice
"I said, 'Hey, just go talk to him,'" Rivera recounted Tuesday. "'Understand what he's trying to get across to you.'
Rivera said he doesn't expect Bieniemy to tone down the level of intensity because he had success with his coaching style with championship results with the Chiefs
"It's not going to change because he believes in it," Rivera said. "(Defensive coordinator) Jack (Del Rio) has his approach. Having been a head coach, I think Jack has a tendency to try to figure guys out a little bit more as opposed to, 'Hey, this is it, this is the way it's going to be.' That type of stuff. Eric hasn't had that experience yet.
Bieniemy was a candidate for multiple head coaching positions in recent years but didn't land of the NFL's top 32 jobs
Rivera said the other side of the equation with coach-player relationships is "young guys, they do struggle with certain things and a lot of it -- is from where they've been.
NFL MVP Patrick Mahomes described Bieniemy as "always on" and said he "sets the standard at the highest level" for players
That doesn't mean they were always in lockstep. Entering the halftime locker room of an eventual loss to the Indianapolis Colts last season, Mahomes and Bieniemy had an on-field shouting match that both dismissed as frustration
Bieniemy spent five seasons with the Chiefs before coach Andy Reid allowed him to exit for a play-calling role with Rivera and the Commanders. Rivera and Reid are close friends
"This is his now," Reid said of why it made sense for Bieniemy to go to Washington. "He's working for Ron Rivera, who's a dear friend, and more of a defensive head coach than offensive head coach, so this allows EB to do his thing, and I'm happy for him.
--Field Level Medi