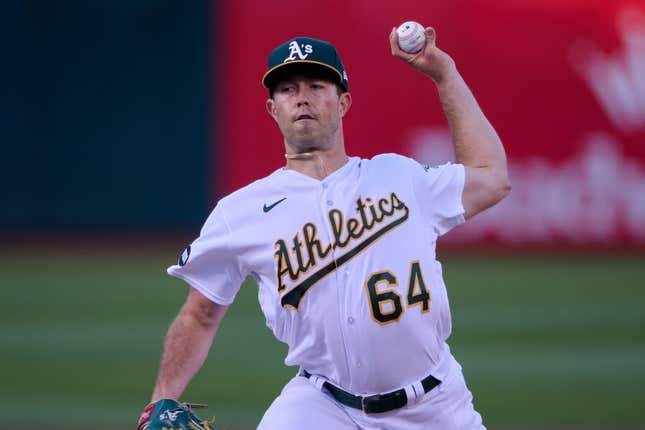 Ken Waldichuk might finally be turning a corner in his rookie season with the Oakland Athletics.
How running an NFL team is like running a restaurant | Chef Emeril Lagasse
Waldichuk will try to continue his rise when he takes the mound against the host Chicago White Sox in the opener of their four-game series on Thursday night.
Waldichuk (2-7, 5.91 ERA) is 0-1 in his past seven starts with a 4.32 ERA. In his past three outings, however, he has allowed two runs or less while pitching at least five innings, but he did not earn a decision in those games.
Most recently, the 25-year-old left-hander faced the American League East-leading Baltimore Orioles on Saturday and limited them to two runs and four hits in 5 2/3 innings of his team's 7-2 loss in 10 innings.
Waldichuk has faced two other division leaders this month, the Texas Rangers and Los Angeles Dodgers, the latter tagging him with his only loss in the seven-start span.
"We talk a lot about the young pitchers and the time it takes to come here and have immediate success," A's manager Mark Kotsay said. "I think he's just understanding how to pitch a little bit better. The execution of the pitches [is] starting to get better over the last month."
Kotsay said Waldichuk has discovered how to use his entire repertoire of pitches.
"The further Ken has gone along, the more it's not just about throwing it as hard as you can," Kotsay said. "It's about the execution of your pitches. Mixing your pitches. Being able to use the changeup behind in the count. We saw some of that (against Baltimore)."
A former fifth-round pick of the New York Yankees, Waldichuk hasn't faced the White Sox in his young career.
Chicago plans to send rookie right-hander Jesse Scholtens to the mound in the series opener.
Scholtens (1-6, 3.79) has made six starts among his 20 appearances this season. He has made four starts this month, going 0-3 with a 4.64 ERA.
He pitched at least six innings and allowed three runs or less in his first three outings in August against the Rangers, Cleveland Guardians and Milwaukee Brewers, three teams in the playoff race, but then had a rough time Saturday in his most recent outing, against the Colorado Rockies, who have the worst record in the National League.
Scholtens surrendered five runs and five hits in three innings of an 11-5 loss. He walked a season-high five batters and struck out only two.
"I walked five guys, I fell behind even more, and I kind of put the team in a tough spot," Scholtens said. "Down early and forced the 'pen out to cover a lot of innings."
He'll get a chance to bounce back against the team with the worst record in the majors.
Scholtens pitched four innings of relief against Oakland on June 30. He allowed three runs and five hits in a 7-4 loss in Oakland.
The White Sox welcomed back shortstop Tim Anderson on Wednesday after he served a five-game suspension for his involvement in a brawl with the Guardians on Aug. 5.
Anderson had two hits and scored the winning run in the 10th on a throwing error by the Seattle Mariners that gave Chicago a 5-4 win and ended the Mariners' second eight-game winning streak this month.
The win helped the White Sox avoid a sweep against the Mariners. The A's lost 4-0 to the Kansas City Royals on Wednesday after winning the first two games of the series.
—Field Level Media