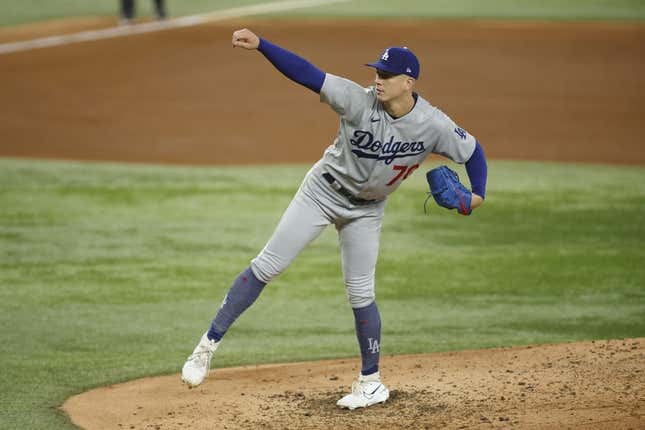 The Los Angeles Dodgers and Washington Nationals went through a chunk of their pitching to begin their weekend series.
How running an NFL team is like running a restaurant | Chef Emeril Lagasse
Now they have to regroup in time for the Saturday game in Washington.
Los Angeles won 8-5 on Friday night in a game that ended close to midnight due to a seventh-inning rain delay.
The Dodgers (86-54) have won back-to-back games for the first time this month, and they could be improving at the plate, too.
"We've got a good offense," Los Angeles designated hitter J.D. Martinez said. "I'll put up our offense against any of the offenses out there."
For Martinez, warming up twice was a concern given that he was just off the injured list after missing almost three weeks because of a groin injury.
"I held up, so we're good," Martinez said. "We have to keep going."
The Nationals (63-78) are 1-6 with two games left on their current homestand. It's not time to give up hope, according to manager Davey Martinez.
"Learn by our mistakes and move on and get better," he said.
Of Washington's eight likely available relievers on Friday, six of them were used.
Whoever is on the mound for the Nationals probably won't have to face Dodgers right fielder Mookie Betts.
The NL Most Valuable Player contender isn't expected to play this weekend after he took a foul ball off his left foot on Thursday in Miami.
"I don't see him in there (Saturday) and most likely not in there on Sunday," Dodgers manager Dave Roberts said.
The Nationals learned that catcher Riley Adams is done for the season because of a broken bone in his wrist he sustained on Wednesday night. He will undergo surgery.
"It's a shame, but he did really well," Dave Martinez said. "He was getting better. His hitting got better, and I think he's going to continue to get better."
The Nationals manager said rookie catcher Drew Millas will start one of the weekend games. Outfielder Lane Thomas (back) could return to the lineup this weekend as well after missing three games.
Washington recalled second baseman Luis Garcia from Triple-A Rochester, and he should get some regular playing time against right-handed pitchers down the stretch. Garcia started and went 0-for-3 on Friday.
Saturday's pitching matchup involves a pair of rookies.
The Dodgers have right-hander Bobby Miller (9-3, 3.80 ERA) lined up to make his 18th start of the season, and he is aiming for his third consecutive win after home victories over Arizona and Atlanta.
Against the Braves on Sunday, Miller went seven innings, his longest major league outing. He gave just one run, three hits and a walk while striking out five.
Miller's second career start came against Washington on May 29, and he picked up a victory by throwing six innings and allowing one run on four hits with a walk and four strikeouts.
Right-hander Jake Irvin (3-5, 4.35 ERA) gets the call for the Nationals. He has gone seven consecutive starts without a decision, although he worked at least five innings in all but one of those outings. Because the Nationals had two off days this week, Irvin hasn't pitched since Sept. 1.
Irvin had a tough time in a May 30 game at Los Angeles. The Dodgers pinned him with a loss by scoring four runs in five innings. Jason Heyward homered off him.
—Field Level Media