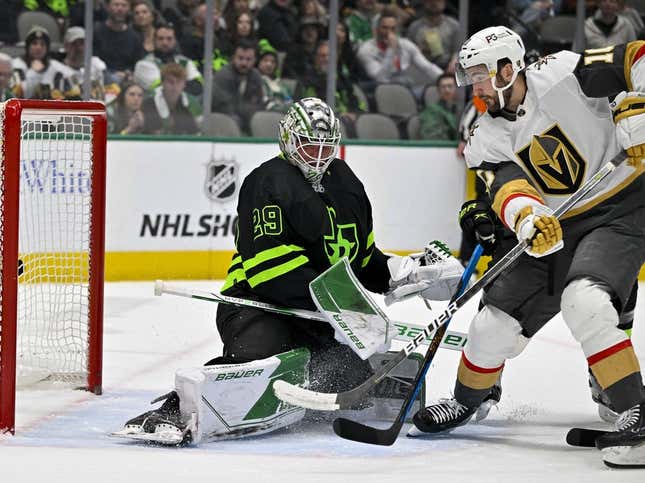 Roope Hintz scored in the second round of the shootout and Jake Oettinger thwarted all three attempts in the extra session to give the Dallas Stars a 2-1 victory over the visiting Vegas Golden Knights on Saturday afternoon
'Soccer fandom is full of gatekeepers' says Ted Lasso actor Brendan Hunt
Hintz also scored the shootout clincher in a 3-2 victory over the Golden Knights on Feb. 25 in Las Vegas. He had the only score in the shootout on Saturday after his wrist shot from the slot beat Jonathan Quick on his blocker side
Joel Kiviranta scored a goal and Oettinger finished with 19 saves for Dallas (44-21-14, 102 points), which moved ahead of Colorado (47-24-6, 100 points) into first place in the Central Division. The Avalanche visit the Los Angeles Kings later on Saturday night.
Oettinger improved to 4-0-0 all-time against the Golden Knights
Brett Howden scored and Quick had 24 saves for Vegas (49-22-9, 107 points), which saw it Pacific Division lead shrink to two points over Edmonton (48-23-9, 105 points). The Oilers skated to a 6-1 win over the San Jose Sharks on Saturday.
The Golden Knights played without top scorer Jack Eichel, who is day-to-day with a lower-body injury
Vegas took a 1-0 lead a the 14:21 mark of the first period after Howden accepted a pass from the left boards from Keegan Kolesar and wristed a shot from the left circle that sailed into the top right corner of the net. The goal was his sixth of the season.
Dallas tied it midway through the second period after Kiviranta's wrist shot sailed under Quick's glove from the middle of the left circle at the end of a 2-on-1 rush with Luke Glendening. It was Kiviranta's eighth goal of the season.
Both teams had a chance to win it in the third period but hit the goal post with shots. Michael Amadio hit the left post with a close-in wrist shot with 8:49 remaining, while Evgenii Dadonov rang the iron with a sharp-angle shot from the bottom of the left circle with 3:41 to go.
Both teams also hit the post with potential game-winners in overtime. Max Domi's shot from the high slot hit the crossbar at the 2:57 mark, while Reilly Smith's wrist shot from the left circle hit the near post with 1:59 to go.
--Field Level Media