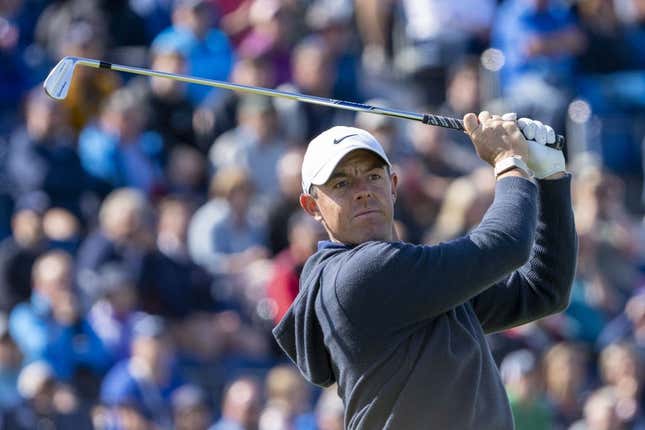 The last time Royal Liverpool Golf Club hosted The Open Championship, two of golf's brightest young stars rose to the top. Rory McIlroy won his third major and Rickie Fowler tied for second.
How running an NFL team is like running a restaurant | Chef Emeril Lagasse
Cut to present day, and McIlroy hasn't won a major since The Open and the PGA Championship that summer of 2014, while Fowler has fought through career trials and tribulations while searching for his first.
Both in terrific form, McIlroy and Fowler will chase an elusive major breakthrough at The 151st Open, beginning Thursday in Hoylake, England.
McIlroy won the Scottish Open on Sunday for his second title of the season, and the Northern Irishman is certain to be a fan favorite on the British Isles. After finishing second to Wyndham Clark at the U.S. Open last month, he has continued to show laser focus on his game, declining a pre-championship press conference before giving brief remarks to reporters.
"I think regardless of whether I won (the Scottish) or not, I would have come in here confident with the way I've played over the last sort of month and a half," McIlroy said. "My game feels like it's in good shape, but I think seeing the way I played last week and being able to control my ball in pretty difficult conditions, and I feel good about that coming into this week."
Fowler kicked off the U.S. Open with a 62, the lowest score in the championship's history (Xander Schauffele matched it 20 minutes later), before fading to a T5 finish. Then he won the Rocket Mortgage Classic earlier this month, his first victory of any kind in more than four years.
However, Royal Liverpool will play rather differently than it did when McIlroy and Fowler found success in 2014. Formerly a par 72, the course is now a par 71 as the 10th hole has been changed from a par 5 to a long par 4.
Nos. 15-18 were revamped, as well, to form an entertaining closing stretch. Nos. 15 and 18 are par 5s exceeding 600 yards; No. 17 is a new par 3, short but challenging, with a rounded green described by Spaniard Jon Rahm as a "turtle shell."
Cameron Smith of Australia is the defending champion, returning the Claret Jug this week after beating McIlroy and Viktor Hovland of Norway last year at historic St Andrews.
Moments after that victory, Smith evaded a question about rumors he was joining LIV Golf, but Smith did eventually sign up for the breakaway league. He arrives at Royal Liverpool off a victory at LIV Golf London.
"I think I'm actually a better golfer now than what I was last year," Smith said. "I think the stuff that I had to clean up is progressing."
World No. 1 Scottie Scheffler, Masters champion Rahm and 2021 Open champion Collin Morikawa are among the other elite players vying for glory, along with LIV stars like Brooks Koepka and Dustin Johnson.
"Links golf, a lot of it is going to be dictated by the weather, right, on what you can or cannot do on the golf course, especially on a golf course like this," Rahm said. "... It's just being able to pick your spots and play your best golf."
And if Rahm can't win it this week, he may be pulling for his fellow European to get the major monkey off his back and win No. 5.
"He (McIlroy) still has a lot of years to play ahead of him, so I know he wants to keep adding to that tally," Rahm said. "... I'm hoping he does it. I'm pretty sure he will get that No. 5 at some point."
--Field Level Media