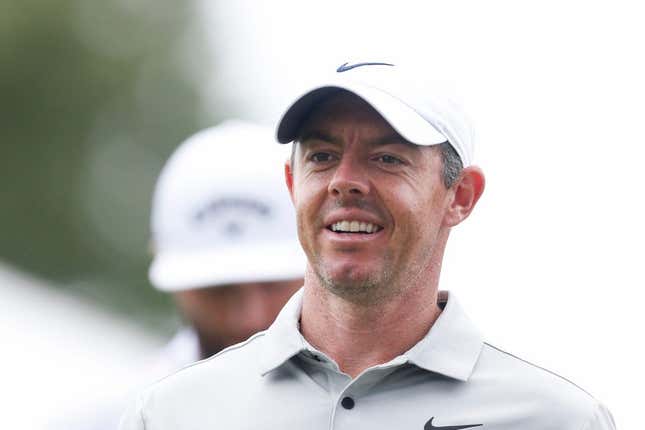 Rory McIlroy had a quick response when asked about claims that Phil Mickelson tried to place a $400,000 wager on the United States to win the 2012 Ryder Cup.
Is Texas or Florida State a bigger national title contender? | Agree to Disagree
"At least he can bet on the Ryder Cup this year because he won't be a part of it," McIlroy told reporters after his opening round at the FedEx St. Jude Championship in Memphis, Tenn.
McIlroy has not been shy about sharing his negative reactions to players leaving the PGA Tour for LIV.
Although LIV players are not exempt from Ryder Cup competition this year, Mickelson is not at this time expected to compete.
McIlroy's comments come after Billy Walters claims in his autobiography that six-time major winner Mickelson wagered $1 billion on sports over 30 years.
Walters' book, "Gambler: Secrets from a Life of Risk," outlines in part Mickelson's alleged staggering gambling habits and losses, including one instance when he was talked out of placing a $400,000 bet on Tiger Woods at the Ryder Cup.
A notorious professional gambler, Walters went to prison in 2017 following a conviction on 10 counts of conspiracy, securities fraud and wire fraud related to "ill-gotten gains" trading Dean Foods stock. Walters shared insider information around some of those trades with Mickelson, who made multiple stock purchases totaling $931,000 and was forced by the Securities and Trade Commission to repay $1 million.
Walters wrote in his book, "Phil's gambling losses approached not $40 million as has been previously reported, but much closer to $100 million. In all, he wagered a total of more than $1 billion during the past three decades."
Walters, released from prison in 2020 and granted clemency by Donald Trump in 2021, claimed "all Phil Mickelson had to do (at Walters' trial) was come forward and tell the truth."
Mickelson did not testify.
Walters said in addition to the stock tips, he formed a high-limit betting partnership with Mickelson. Walters said the incentive was simple — he wanted to increase his own limits with off-shore books, who didn't know the bets placed by Mickelson were largely Walters' plays.
Walters asserts in his autobiography, co-authored by Armen Keteyian, that Mickelson:
—Wagered $110,000 to win $100,000 a total of 1,115 times.
—Bet $220,000 to win $200,000 more than 1,300 times for a total of $311 million
—In 2011 alone, he made 3,154 bets, an average of nearly nine per day.
—On one day in 2011 (June 22), he made 43 bets on major league baseball games, resulting in $143,500 in losses.
Mickelson declined to comment on the book's claims. "I'm gonna pass today," he told Golfweek on Thursday.
—Field Level Media