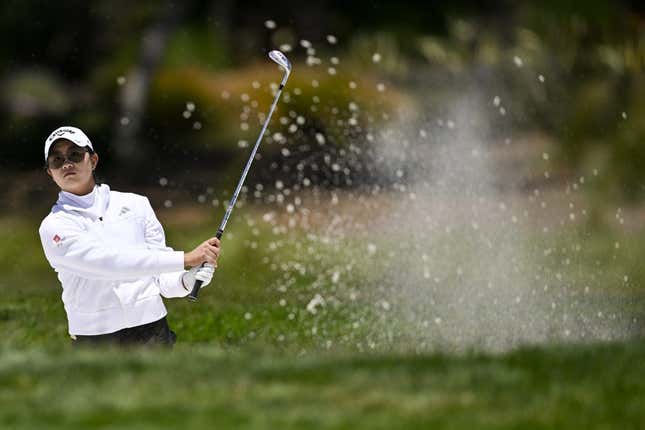 Breakout LPGA star Rose Zhang is well aware of the gravity carried within this week's AIG Women's Open at Walton Heath Golf Club in Surrey, England.
How running an NFL team is like running a restaurant | Chef Emeril Lagasse
Zhang finished tied for 28th as an amateur in last year's event, and it's clear she aims for big things as she seeks to improve her No. 32 Rolex ranking.
"I know that major championships are weighed very heavily, and very much, so these are weeks that all players want to play well in," she told reporters at a news conference at Walton Heath on Tuesday.
"But treating it as a regular event and treating yourself as just a player going out on a difficult golf course and learning how to navigate the conditions and how the course is playing, is very important for any player to be successful during that week."
With three consecutive top 10 finishes in majors this year, Zhang credits her cerebral toughness as a leading reason for success - while trying to remain grounded.
"Ideally making the cut is the first thing that I want to do," Zhang said. "And I'm just really lucky to in the last couple of events, I was able to have those opportunities to play and be somewhat in the mix.
"But I know that my game is there. I know that I have the mental grit to be able to compete well on these difficult golf courses, so going into this major week, it's all the same, and it's the same kind of drive that I had in the previous."
Following her practice rounds, Zhang talked about the particular challenges associated with this course.
"When I was out here, it definitely was different from the previous British Opens that I've played, Muirfield and Carnoustie, those are very traditional links-style golf courses," she said, referencing the course's notorious shrubbery.
"So when I came out here, I was well aware of the heather. The heather is beautiful but it's terrible to be in. Not somewhere you want to be this week."
Zhang will play the first two rounds with Canada's Brooke Henderson and defending AIG Women's Open champ Ashleigh Buhai of South Africa.
"It's so cool," Zhang said. "I actually remember playing with Ashley in my first ever U.S. Open, and that's back in 2018, I believe. So I just remember her being the nicest person ever ... . So I'm really excited to be able to tee it up with her."
Zhang said she'll be back at Stanford taking classes in January, and "potentially taking some classes in the spring quarter, and then ... continue playing golf and playing on tour."
She plans to emulate fellow Stanford standout Michelle Wie West, working toward and earning a degree while playing on tour.
"Both of us kind of talked about it before and that's how she gave me such great advice on what I want to do in my future," Zhang said. "I'm definitely inspired by her, with her abilities to both finish her academics as well as play professional golf, and it was certainly something that I was a little bit iffy about.
"But she told me it was totally doable which encouraged me to continue down that path, too."
Zhang, Henderson and Buhai are scheduled to tee off at 7:49 a.m. ET.
- Field Level Media