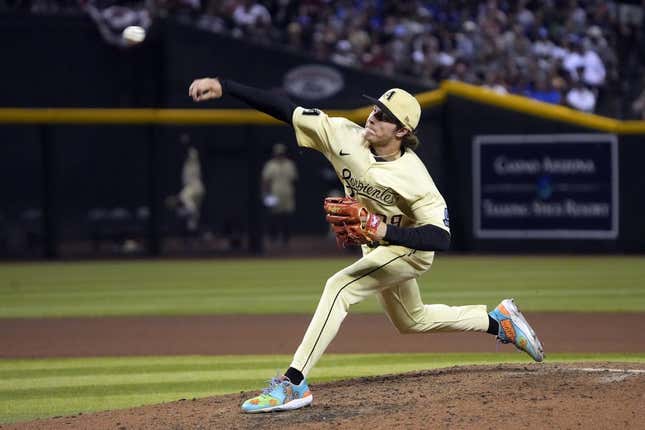 Dominant pitching performances by both teams resulted in the Arizona Diamondbacks and Milwaukee Brewers splitting the first two games of their series, with the rubber match taking place Wednesday at Phoenix
Arizona starter Zac Gallen struck out 11 and walked one Monday while allowing only three hits in seven innings during the Diamondbacks' 3-0 win
Milwaukee's Corbin Burnes allowed three hits with eight strikeouts and no walks in eight innings during the Brewers' 7-1 win Tuesday
In the first 15 innings of the series, Milwaukee did not score and tallied only three hits. Arizona's Tuesday starter, Merrill Kelly, held the Brewers hitless through the first six innings
The Brewers awoke with a five-run rally in the seventh inning, ignited by Willy Adames' leadoff home run
Mike Brosseau, the No. 9 batter in the lineup, also hit a two-run double in the inning and added a solo home run in the ninth inning.
"It's all momentum. Willy's always been a catalyst for this team," Brosseau said. "The guys on the bench see him do something like that -- he really put a good barrel on the ball. Everybody followed suit after that."
The result ended Arizona's four-game winning streak.
"It was a good game, it was an exciting game, and whoever blinked first was going to get sucker-punched. We ended up being that team," Arizona manager Torey Lovullo said of the pitchers' duel between Kelly and Burnes.
Kelly wound up yielding three runs on one hit and four walks with seven strikeouts in six-plus innings. It marked the third straight quality start for the Diamondbacks' rotation
Ryne Nelson allowed four hits and three runs in six innings during an 11-6 win over the Los Angeles Dodgers on Sunday.
The Diamondbacks will start right-hander Drey Jameson (2-0, 2.16 ERA) on Wednesday against Brewers right-hander Janson Junk, who was called up Tuesday from Triple-A Nashville to replace right-hander Brandon Woodruff
Woodruff was slated to be the starter but was placed on the 15-day injured list retroactive to Saturday due to right shoulder inflammation.
He was coming off a strong start against the St. Louis Cardinals on Saturday, when he threw 5 1/3 scoreless innings, tallying 84 pitches.
"My hope is that in about a week I should be fine," Woodruff said. "It shouldn't require the full 15 days."
Junk has appeared in two games (one start) for Nashville this season, and he allowed one run over 10 innings.
He never faced the Diamondbacks in his seven major league outings (six starts) for the Los Angeles Angels in 2021 and 2022. He was acquired during the offseason in a trade that sent outfielder Hunter Renfroe to the Angels
Jameson will make his first start of the season after replacing Zach Davies (left oblique strain) in the rotation. Technically, on Wednesday he will start in place of Madison Bumgarner, who will get an extra two days of rest before taking the mound Friday against the Miami Marlins.
Jameson, in his second major league season, has yet to face the Brewers
Arizona added right-handed reliever Jose Ruiz to the roster on Tuesday when reliever Scott McGough was placed on the paternity list. The Diamondbacks acquired Ruiz from the Chicago White Sox on Sunday in a cash transaction after he surrendered nine runs on eight hits in 3 2/3 innings this season
Ruiz gave up a solo homer to Milwaukee's Rowdy Tellez in his Arizona debut on Tuesday.
--Field Level Media