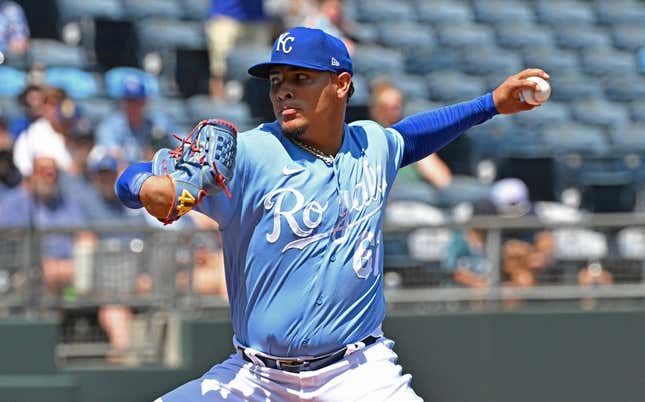 The Kansas City Royals will turn to left-hander Angel Zerpa on Wednesday in their effort to avert a three-game series sweep against the visiting Pittsburgh Pirates.
How running an NFL team is like running a restaurant | Chef Emeril Lagasse
The Royals dropped a 5-0 decision in the series opener on Monday and a 6-3 setback on Tuesday.
Zerpa (1-2, 7.27 ERA) is getting the starting nod in place of Brady Singer, who will miss Wednesday's scheduled start against Pittsburgh due to arm fatigue. Singer, the Royals' most consistent starter, leads the club in wins (eight), innings pitched (143 1/3) and strikeouts (125).
"The plan right now is to skip this start," Royals general manager J.J. Picollo said prior to Monday's loss. "He won't go on the IL. Hopefully we can line him up and let him pitch next time around."
With a slight — but noticeable — drop in velocity during recent starts, Singer was sent for an MRI Sunday.
"We got good news," Picollo said. "We had imaging done and it all came back very positive. There's a little bit of a collective sigh of relief."
The Royals have considered limiting Singer's workload with the team 52 games below .500 and officially eliminated from postseason contention.
"That's something in-game that (Kansas City manager Matt Quatraro) is going to have to decide," Picollo said. "How taxing are those innings? If it's a heavy workload for four or five (innings), that's not the game you want to run him 105 pitches. We're aware of where we are in the standings and we're going to do what is right for Brady. We're not going to put him in situations that are going to adversely affect his career."
Should Singer miss only Wednesday's start, he likely would return to the rotation Tuesday when Kansas City hosts the Chicago White Sox.
Zerpa, 23, will make his eighth appearance and third start of the season on Wednesday and first in his career versus the Pirates. He went three innings, allowing five runs on five hits with four strikeouts, in his most recent start on Aug. 22 against the Oakland Athletics.
Pittsburgh right-hander Andre Jackson (0-1, 4.91 ERA) will get the start on Wednesday. He has yet to face Kansas City in his career.
Jackson, 27, threw a career-high six innings against the Chicago Cubs in his most recent outing on Thursday. He allowed two runs on six hits in a no-decision.
In a career spanning 15 seasons and more than 2,000 games, Andrew McCutchen needs one home run to reach 300.
"I don't want to talk about it," McCutchen told MLB.com after connecting for No. 299 against Adam Wainwright and the St. Louis Cardinals on Aug. 22. "We'll talk about it whenever it happens."
When it does happen, McCutchen would become the 12th active major leaguer to reach the mark and 158th in major league history, although Philadelphia Phillies slugger Bryce Harper (299 homers) may get there ahead of him.
With an RBI single in the seventh inning Monday, McCutchen snapped an 0-for-12 slide. The run-scoring single gave him 765 RBIs for his Pirates' career, two behind Hall of Fame shortstop Arky Vaughan for eighth place all-time in Pirates history.
"I've been dealing with a bum elbow all year," McCutchen said. "I've been competing every single day. I've been grinding every day, man. I haven't felt that great, like myself, for most of the season. But, I'm just gonna try and show up and compete. If I can swing the bat, I'm gonna swing. I just take life as it comes and try to do my best."
—Field Level Media