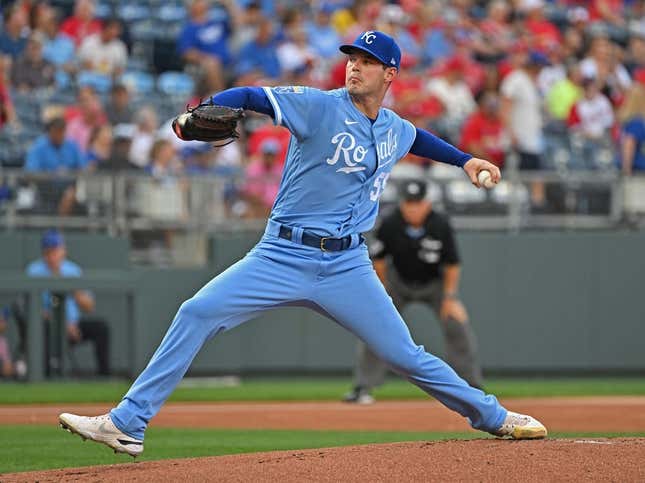 Left-hander Cole Ragans will try to extend his 21-inning scoreless string Sunday afternoon and help the visiting Kansas City Royals avoid a three-game series sweep by the Toronto Blue Jays.
Is Texas or Florida State a bigger national title contender? | Agree to Disagree
It is the longest active streak in the major leagues and the longest by a Royals pitcher since Wade Davis had a 22-inning scoreless stretch from April 6-May 31, 2015.
In eight starts with the Royals since being acquired from the Texas Rangers on June 30, Ragans has an ERA of 1.51.
"I'm just trying to finish the season strong," he said. "Every time I go out there, I try to give us a chance to win."
The Royals (44-99) want a win after dropping the first two games of the three-game series against the Blue Jays (79-63), including 5-1 on Saturday. Kansas City has lost three in a row overall.
Ragans (6-4, 3.00 ERA) will face the Blue Jays for the first time.
Toronto is scheduled to start right-hander Jose Berrios (9-10, 3.68) in the series finale. In 20 career starts against Kansas City, he is 6-5 with a 4.85 ERA.
The Royals had two players suffer season-ending injuries in their 5-4 loss on Friday.
Left-handed reliever Austin Cox (left knee) was put on the 60-day injured list Saturday. He was injured in the seventh inning Friday while covering first base on an infield hit.
"We believe it's an ACL," Royals manager Matt Quatraro said. "He felt a pop in there on the play when he reached for the bag."
Royals catcher Freddy Fermin (fractured left middle finger) was put on the IL on Saturday after he was injured on a catcher's interference.
The Royals reinstated right-hander Brad Keller (shoulder) from the 60-day IL on Saturday and selected catcher Tyler Cropley from Double-A Northwest Arkansas.
Keller will work out of the bullpen for now.
"It's been a trying year for (Keller)," Quatraro said. "But as of late, the last three weeks or so, he's really thrown the ball well on his rehab assignment. (Cropley) does a great job behind the plate receiving and blocking."
Salvador Perez, who played first base on Friday, was behind the plate on Saturday. The eight innings that he caught gave him 10,000 behind the plate for his career, the first Royals catcher to reach that mark.
The Blue Jays are 9-5 with one game left in their span of 15 games against teams with records below .500.
In their win on Saturday, Blue Jays right-hander Kevin Gausman allowed one run and two hits while striking out 10 in eight innings.
Toronto right fielder George Springer was 3-for-4 with two solo home runs and four RBIs. He has 19 homers for the season.
The Blue Jays occupy the third American League wild-card spot, and Springer has a reputation for being his best at this time of the season and in the playoffs.
"What's there not to like?" Springer said. "This is what you play for. This is such a fun time to play. I know that sounds old, but it is. This is why you play the game, for moments like this to be in a playoff race and be in the hunt. This is a good time of the year. It's so fun to play in these games."
—Field Level Media