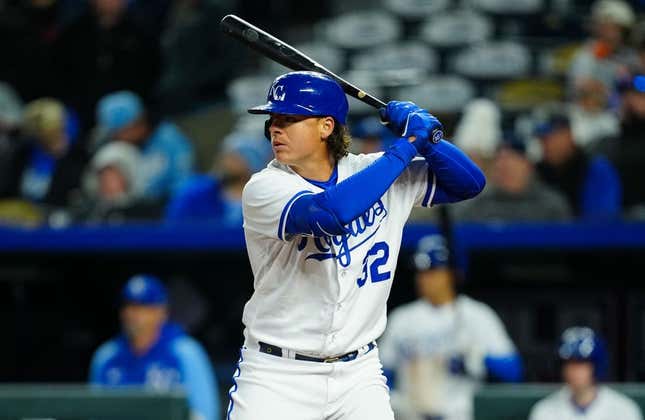 The Minnesota Twins have wasted no time establishing dominance in the American League Central
Bass' ERA stinks, but not compared to who he is off the mound | Worst of the Week Countdown
With the season nearing the one-month mark, Minnesota has gone 7-1 against its division rivals and will have a chance to better that mark on Saturday when it continues a four-game set with the Kansas City Royals in Minneapolis
A good portion of that success within the AL Central has come against the Royals. Minnesota is 5-0 against Kansas City after winning the first two games of the current series
The Twins posted an 8-6 victory on Friday, but it wasn't easy. Minnesota led 8-2 after a three-run homer from Jorge Polanco and solo shots from Max Kepler and Jose Miranda, but Kansas City pulled within two after scoring twice in the sixth and twice in the seventh
The Royals also managed to load the bases with two outs in the ninth, but Minnesota closer Jorge Lopez struck out Nick Pratto to earn his second save
The Twins scored at least six runs for the fifth straight game. They chased Kansas City starter Jordan Lyles after just four innings on Friday. Minnesota manager Rocco Baldelli has been thrilled with his team's approach at the plate
"We've been pretty consistent in talking about the way that we've approached the at-bats and just the way that our at-bats have gone over the past week," Baldelli said. "That's what leads into those kinds of really important big swings and guys driving the ball around the ballpark."
Minnesota's Bailey Ober (1-0, 1.59 ERA) will hope the offense keeps rolling when he makes his second start of the season on Friday.
Ober allowed one run on three hits in 5 2/3 innings against the Nationals on Sunday in his season debut. He walked three and struck out four. In five career starts against the Royals, Ober is 0-1 with a 4.64 ERA
Brad Keller (2-2, 3.96 ERA) will oppose Ober with the hopes of getting Kansas City's rotation back on track. Over the past 14 games, a Royals starter has been credited with the win just once, with starters combining to yield 57 runs (56 earned) in 67 2/3 innings during that stretch -- an ERA of 7.45
In 14 career appearances (12 starts) versus Minnesota, Keller is 3-6 with a 3.89 ERA. He surrendered two runs on five hits in 4 2/3 innings in a loss against the Twins on April 2
Despite losing for the 12th time in its last 14 games on Friday, Kansas City finally showed some life on offense, scoring at least six runs for just the fifth time this season. Pratto, Salvador Perez and Edward Olivares each had three hits, with Perez also driving in three runs.
Pratto was playing his first game with the big-league club since April 6 after being recalled from Triple-A Omaha earlier Friday.
"It felt good," Pratto said of his swing. "I felt like I conducted my at-bats well. ... Overall, felt back to normal."
Pratto was also happy with the effort his team showed against a tough opponent like the Twins
"They execute really well," Pratto said of Minnesota's pitchers. "We put up tough at-bats all day, and we did a good job of chipping away at the end. ... That's what you want out of a team -- consistently getting back into situations where you can make (an) impact."
--Field Level Media