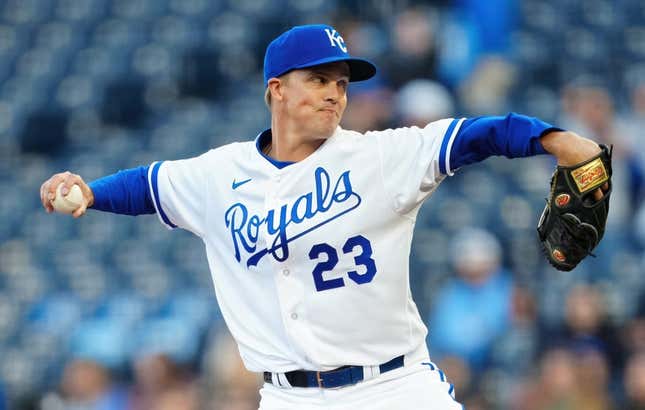 The Kansas City Royals will send ace Zack Greinke to the mound on Saturday against the visiting Atlanta Braves to try to salvage a game from the three-game series and end the team's troubles at home
Bass' ERA stinks, but not compared to who he is off the mound | Worst of the Week Countdown
Greinke (0-3, 3.31 ERA) will be opposed by Atlanta's Kyle Wright (0-0, 12.00), a 21-game winner last season.
The Royals are 1-8 at Kauffman Stadium and have been outscored 48-23 in the team's worst start at home since 2018, when they were 1-8 en route to a 1-12 start. Kansas City has lost five straight at home. The Braves have won five in a row overall
"These are good teams," Kansas City manager Matt Quatraro said. "That being said, we have to be better. We have to compete with these teams."
Royals catcher Salvador Perez said, "Against a team like (Atlanta) we almost have to be perfect. We need to come in and compete at our best. We've got to continue to play hard and concentrate day by day.
Greinke has pitched better than his record indicates. He took the loss to the Texas Rangers on Monday after pitching five innings and allowing four runs, three earned, on six hits with three strikeouts. He left with a 4-1 deficit in the sixth when Dylan Coleman retired only two of the eight batters he faced and was tagged with six runs.
This start will be the 518th of Greinke's career and will tie him for 43rd on the all-time list with 19th-century pitcher John Clarkson. He ranks first among active pitchers for starts and innings (3,263 1/3) and second in wins (223) and third in strikeouts (2,893).
Greinke has made 11 career starts against Atlanta, going 4-1 with a 2.75 ERA, but he has not faced the Braves since July 14, 2018, when he was with Arizona
Greinke has allowed two or fewer earned runs in 19 of his last 21 starts at Kauffman Stadium dating back to Sept. 30, 2010. He hasn't allowed a homer at home in his last 44 2/3 innings dating back to June 29, 2022.
Wright opened the season on the injured list after experiencing right shoulder inflammation. He worked only four innings against Cincinnati on Tuesday in his season debut, allowing four runs in three innings with four walks and three strikeouts. Wright said the outing "wasn't pretty."
"I struggled a little bit with the grip, a little bit with tempo, a little bit with command," Wright said.
The hottest hitter in the Atlanta lineup has been catcher Sean Murphy. He had two doubles and a home run on Saturday and is 5-for-7 with three doubles, four runs scored and seven RBIs in the first two games of the Kansas City series.
"Feeling good. Things are going well," Murphy said. "I'm seeing the ball and trying to stay consistent and keep it going. Those guys (in front of him in the lineup) are doing a great job getting on base and I've been coming through. It's nice to get off to a hot start, but I can always get better."
Kansas City shortstop Bobby Witt Jr. was 3-for-5 on Saturday and has three straight three-hit games. Witt has lifted his batting average to .298 after hitting .143 through the first 10 games.
--Field Level Media