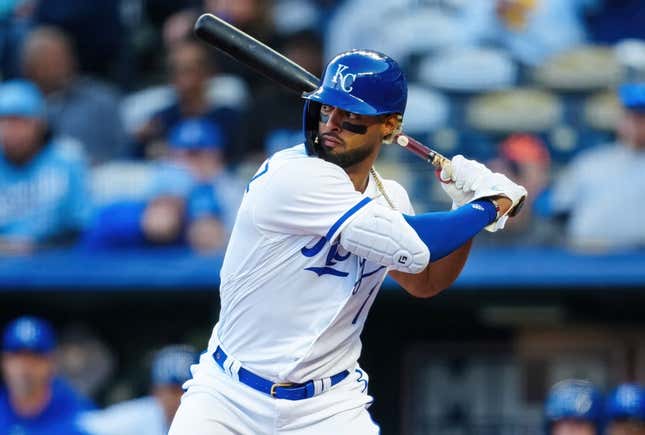 MJ Melendez is expected to be in the lineup for the Kansas City Royals on Sunday when they play the Los Angeles Angels in the finale of a three-game series in Anaheim, Calif
Bass' ERA stinks, but not compared to who he is off the mound | Worst of the Week Countdown
Whether Melendez will be behind the plate to catch starting pitcher Jordan Lyles (0-3, 3.91 ERA) or in the outfield is up to Royals manager Matt Quatraro
Melendez has played in 51 career games (50 starts) in either left or right field. He also has served as a backup to All-Star catcher Salvador Perez.
This season, Melendez has played 13 games in right field and seven at catcher, including two games in which he played both positions.
Melendez went 2-for-4 with a triple and two RBIs in Saturday's 11-8 win over the Angels. The Royals hope that effort will spark the 24-year-old after a slow start to the season at the plate
Last season, Melendez recorded 18 home runs with 62 RBIs; however, he hit just .217 and struck out 131 times in 534 plate appearances. This season he's hitting just .169 with one homer and 28 strikeouts in 83 plate appearances.
"MJ is a young hitter in the big leagues, and he shows a ton of ability," Quatraro said. "He's got power to all fields, he can put up a quality at-bat like you just saw there. The more at-bats he gets, the more consistently we're gonna see those things."
Lyles, who will make his fifth start of the season, is 4-4 with a 6.39 ERA in 10 career games (nine starts) against the Angels
Angels left-hander Reid Detmers (0-1, 4.50) will make his fourth start of the season on Sunday. After struggling in his first two starts, Detmers seemed to find a groove in his last start even though he didn't get a victory. He gave up two runs and six hits in 6 1/3 innings, striking out seven and walking one against the Boston Red Sox last Sunday
Detmers had his ups and downs last season, throwing a no-hitter but also enduring a demotion to the minors. While his focus last year was to improve his slider, he has aimed to better his changeup this year.
"I just wanted my changeup to be a little bit better, so I worked on that," Detmers said. "But it's the same grip, same everything. So nothing too crazy -- just tried to figure out my body better and how it moves the best. I thought toward the end of last year it was moving the best, so I kind of took that into the offseason and worked on that."
The slider, though, remains Detmers' best pitch, Angels manager Phil Nevin said
"You watch his bullpens, you watch his work," Nevin said. "You see his body. He's noticeably gained some mass to his body. Remember, he's 23 years old. He's still growing. And from what I've seen so far, the velocity, the movement on his slider and the velocity of the slider is where we got it to last year -- and even a couple of ticks above."
Detmers recorded a 9.00 ERA but walked away without a decision in his one career start vs. Kansas City.
--Field Level Media