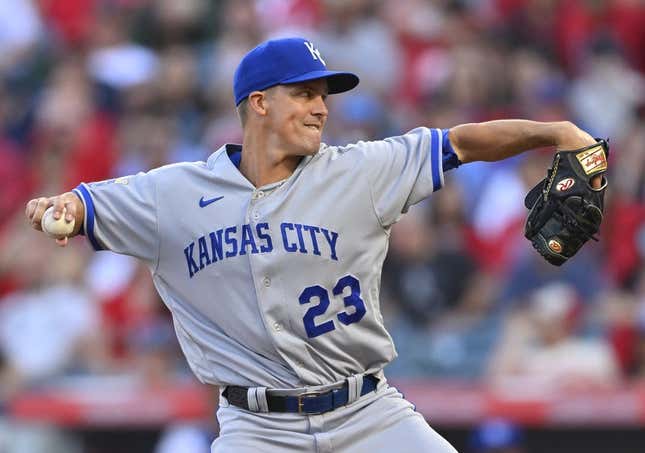 The visiting Kansas City Royals hope veteran Zack Greinke can trade his recent road struggles for some old Milwaukee magic when they face the Brewers on Saturday night
'Soccer fandom is full of gatekeepers' says Ted Lasso actor Brendan Hunt
Greinke (1-4, 5.18 ERA) will be opposed by fellow right-hander Adrian Houser (0-0, 3.86), who will make his second major-league start of the season after four minor-league rehab starts.
Milwaukee took the series opener 5-1 on Friday behind Corbin Burnes, who allowed just two singles over six scoreless innings. He walked four, but the Royals couldn't capitalize
The Royals have homered in a season-high 11 straight games as Freddy Fermin provided their only run with a seventh-inning solo homer off Joel Payamps
Kansas City opted for a bullpen game in the opener with Josh Taylor pitching the first inning in his first start this season after nine relief appearances. Max Castillo came on and covered 4 1/3 crucial innings to help preserve the pen for the rest of the series.
"That's huge for us," said Royals manager Matt Quatraro. "Especially in this stretch of we're still in 16 in a row and 26 out of whatever. So yeah, there's no doubt, the more length you can get out of somebody in a game like that, the better.
Greinke was 0-3 with a 6.66 ERA in five starts in April but has allowed just four runs (three earned) in 10 2/3 innings in two starts this month. In his most recent start, he allowed four runs (three earned) on six hits in 5 2/3 innings but did not get the decision in a 12-5 win over the Chicago White Sox on Monday.
Greinke, who pitched for Milwaukee in 2011 and part of 2012, has struggled on the road since returning to Kansas City, going 0-9 with 5.95 ERA in 17 starts. With Milwaukee in 2011, he was 11-0 in 15 home starts at American Family Field.
Greinke is 1-5 with a 4.09 ERA in 10 appearances vs. Milwaukee, including nine starts.
Milwaukee, which had lost eight of its previous 10 before a day off Thursday, moved into first place in the National League Central with the victory Friday, a half-game ahead of reeling Pittsburgh, which has lost 10 of 11.
"We want to string together some good stretches here," Brewers manager Craig Counsell said. "I think the day off was a big deal for us yesterday, just kind of reset. Nice to come out after that day off and play a solid all-around game, a really very well-pitched game, and just get in a long stretch of playing good baseball.
Houser began the season on the 15-day injured list with a right-groin strain. In his first start, he allowed two runs on seven hits in 4 2/3 innings but did not get the decision in a 7-3 win at San Francisco on Sunday. He struck out five and walked one in an 87-pitch outing.
Houser has yet to regain his form from 2021, when he went 10-6 with a 3.22 ERA in 28 games, including 26 starts. Last season, he finished 6-10 with a 4.73 ERA with two stints on the injured list.
Houser is 0-0 with a 3.00 ERA in two career appearances against Kansas City, including one start in September 2020.
--Field Level Media