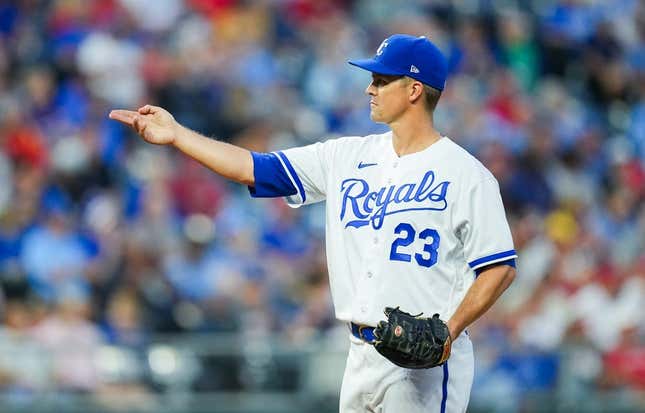 After sharing the World Series spotlight in 2015, the visiting New York Mets and Kansas City Royals will renew acquaintances for a three-game series starting Tuesday amid the reality that so much has changed
How running an NFL team is like running a restaurant | Chef Emeril Lagasse
The Royals are one of the worst teams in baseball, while the Mets opened the season with so much promise only to deliver one of the more disappointing four-month stretches in franchise history
In a matchup of veterans, left-hander Jose Quintana (0-2, 3.27 ERA) is slated to start for the Mets against Royals right-hander Zack Greinke (1-11, 5.49)
In a twist, each club will enter off series victories
Justin Verlander earned his 250th career win Sunday as the Mets beat the Washington Nationals three times during a four-game set. The Royals are riding even higher after a three-game sweep of the American League Central-leading Minnesota Twins
Despite the weekend success, both of whom could be active in the hours leading up to Tuesday's 6 p.m. EST trade deadline
The Mets won 101 games in 2022 and opened this season with the highest payroll in baseball history at more than $350 million. They entered Monday 6 1/2 games out of a wild-card spot in the National League. New York traded closer David Robertson to the Miami Marlins on Thursday and co-ace Max Scherzer to the Texas Rangers on Sunday
"Shocked -- I don't think anybody saw this coming," said Verlander, who acknowledged Sunday he would consider waiving his no-trade clause if a deal was presented to him. Verlander's contract runs through next year with a vesting option for 2025
"It's why sports are great though, you know? If you could script it on paper, it wouldn't be interesting. We're people, and things don't go according to plan sometimes.
The Royals, who haven't had a winning season since closing out the 2015 campaign by beating the Mets in a five-game World Series, had neither a high payroll nor high expectations entering this season
But Kansas City wasn't expected to be vying with the dismantled Oakland Athletics for the worst record in baseball, either. The Royals are 32-75 and just two games ahead of the Athletics, who are in the MLB cellar
"I told them, 'Nobody can keep us from winning three straight until August.' So we had to have a little fun with it," Royals manager Matt Quatraro said with a grin. "It's nice. These guys, you see it every day -- they work, they come out and play hard. To be rewarded with some wins is something that's really nice to see.
The Royals made a trade following the game, when they sent infielder Nicky Lopez to the Atlanta Braves in exchange for left-handed reliever Taylor Hearn
Quintana took the loss Wednesday, when he gave up three runs (two earned) over six innings as the Mets fell to the New York Yankees 3-1. He is 3-10 with a 4.17 ERA in 25 career starts against the Royals, whom he has faced more than any other club
Greinke dropped his seventh straight decision on July 25 after surrendering four runs over five innings in a 5-1 loss to the Cleveland Guardians
Greinke is 5-1 with a 3.49 ERA in nine regular-season starts against the Mets. Greinke also went 1-1 with a 3.29 ERA in two starts for the Los Angeles Dodgers in their five-game loss to New York in the 2015 NL Division Series
--Field Level Medi