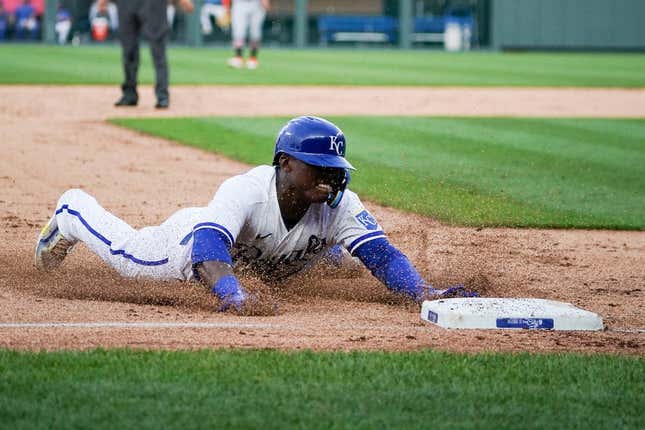 Dairon Blanco will look to follow up a career night with a suitable encore on Wednesday when his Kansas City Royals play the third contest of their four-game series against the visiting Detroit Tigers
How running an NFL team is like running a restaurant | Chef Emeril Lagasse
Blanco recorded career highs in hits (four) and RBIs (three) during the Royals' 11-10 victory over the Tigers on Tuesday. He fell a homer shy of the cycle, although he admitted he tried to go deep in his last at-bat. The ball fell just inches short and Blanco had to settle for an RBI double
"I was ready in that last at-bat to get it, but it just didn't happen," Blanco said via an interpreter, per Bally Sports Kansas City. "It was still a good at-bat, and I got an RBI."
Royals manager Matt Quatraro was pleased to see positive results from Blanco, who entered Tuesday's game batting just .188 on the season
"Every one of the hits was important, and that's what stood out of me." Quatraro said. "... It's nice for him because I know he's been pressing a little bit to get some hits, to drive the ball a little bit. To see him do that was rewarding."
Kansas City's Ryan Yarbrough (2-4, 5.29 ERA) will take the mound on Wednesday night against Detroit's Eduardo Rodriguez (5-5, 2.70) in a battle of left-handers.
Yarbrough, 31, returned from a two-month absence after sustaining facial fractures to allow one run on six hits in six innings of a 4-1 victory at the Cleveland Guardians on July 9.
"I have an understanding of what happened and coming back from it and what could have been and how lucky and blessed I am," Yarbrough said. "It's just been great and the amount of support from the guys, especially after the game. It's been great."
Yarbrough is 1-1 with a 2.35 ERA in three career appearances (two starts) versus the Tigers
He'd be wise to pitch carefully to Spencer Torkelson, who belted a two-run homer in the first inning and a three-run shot in the fifth on Tuesday. Torkelson, who leads the team with 14 homers this season, added a double in the seventh inning to cap a career-high 10-base performance.
"It feels good, but at the end of the day we came out with a loss. And it's a tough taste in your mouth," Torkelson told Bally Sports Detroit. "It feels good and we can definitely take some (good) things away from it."
Matt Vierling answered a 0-for-14 stretch with a two-run double in the eighth inning of the Tigers' 3-2 win over the Royals on Monday. He added two hits and three runs on Tuesday
Rodriguez, 30, posted his first win since May 10 after permitting two runs on three hits in five innings of a 5-4 victory at the Seattle Mariners on Friday. He was making just his second start since being sidelined in June with a finger injury.
Rodriguez is 3-2 with a 4.31 ERA in nine career starts against Kansas City.
--Field Level Media