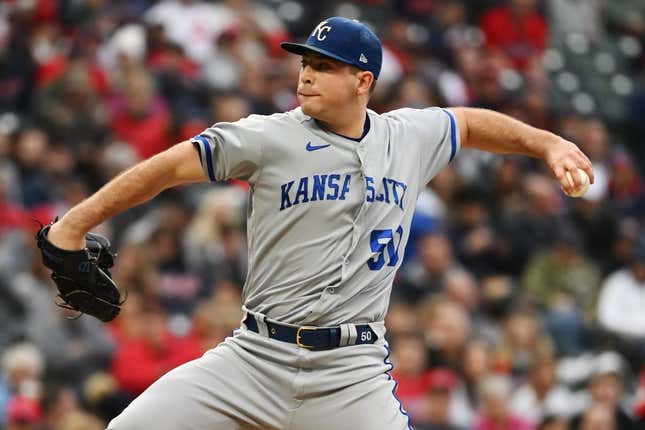 Kansas City Royals left-hander Kris Bubic hopes the third time's the charm when he returns to his childhood area to face the San Francisco Giants on Sunday afternoon
With the Royals looking for a three-game interleague sweep, Bubic will take the mound seeking his first MLB win in the Bay Area
After opening the season 1-6 at home, the Royals employed a front-running style to ruin the Giants' home opener 3-1 on Friday. Kansas City then used a late rally to stun the hosts 6-5 on Saturday
Salvador Perez, who went without a homer in his first 23 at-bats this season, has hit one in each of the wins.
If he catches for the eighth time in the Royals' first 10 games Sunday, he will be teaming with Bubic (0-1, 3.60 ERA), a former standout at Archbishop Mitty High and Stanford, both of which are south of San Francisco
The 25-year-old was a bit of a hard-luck loser in a 4-1 home defeat at the hands of the Toronto Blue Jays in his first start of the season Tuesday. He held the visitors to two runs on seven hits over five innings, but left trailing 2-1.
The 2018 first-round pick by the Royals hasn't enjoyed either Bay Area homecoming in his career, suffering a 6-3 loss to the Oakland Athletics in June 2021, then a 4-2 setback last June in San Francisco
He was charged with three runs in 5 1/3 innings in his only career head-to-head with the Giants
After a 3-13 campaign last season, Bubic looked like a new pitcher against the Blue Jays. His fastball topped out at 95.7 mph -- about 4 mph faster than last year's average. And he mixed in a new pitch, a slider, that he is looking forward to using more often.
"Just having this shape, another speed to cover," he said of the slider, which he threw 12 times against the Blue Jays after never having thrown one in his first three big-league seasons. "Usually, on most nights, it's probably a little easier to command than the curveball. I was a little erratic at times (against Toronto). But for the most part, it's going to be a lot easier to command than the bigger curveball."
Outpitched by Yusei Kikuchi on Tuesday, Bubic draws another tough assignment in Giants right-hander Anthony DeSclafani (1-0, 0.00), who shut out the Chicago White Sox on three hits over six innings in a 12-3 road win on Monday
A career-long National Leaguer, the 32-year-old has never faced the Royals in his nine seasons in the majors
The Giants' loss Saturday gave them their first losing streak of the season. Catcher Blake Sabol tipped his cap to the Royals -- especially Perez -- rather than blame his club for blowing a 5-1 lead
Perez's homer, a three-run, game-tying shot in the eighth inning, was the game's big blow. It came with two outs off Giants newcomer Ross Stripling
"The change-up to Salvy," Sabol noted, "If you look where he hit it -- he golfed that thing. It was just an impressive swing. He's done it for a long time. He (Stripling) got beat on his best pitch. It's not going to happen more times than not when he throws his best pitch."
The Royals have hit five home runs in the series to one for the Giants. San Francisco entered the with 15 homers in its first six games
--Field Level Media