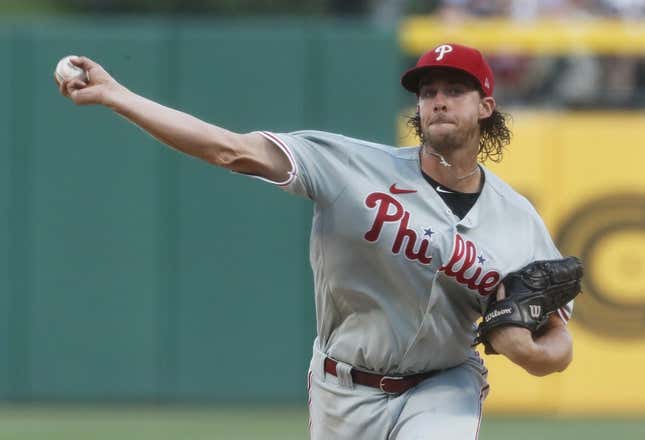 The Philadelphia Phillies will look to continue their hot streak on Friday night when they open a 10-game homestand against an even hotter team, the Kansas City Royals
How running an NFL team is like running a restaurant | Chef Emeril Lagasse
The Phillies have won six of their past nine entering their three-game series against the Royals, who have won a season-high six in a row
J.T. Realmuto belted a two-run homer in Philadelphia's 4-2 victory over the Miami Marlins on Thursday afternoon as he returned from a two-game absence caused by a hand injury. Realmuto sustained the injury while sliding into a base during the Phillies' 4-2 win over the Marlins on Monday
"I'm going to be honest, the first time I took a swing the last three days was in the game," Realmuto said, per the Philadelphia Inquirer. "Even today, during batting practice, I didn't swing very much because I didn't want to irritate it. Every swing I took was a one-handed kind of letting go of the bat early. But I guess in the game the adrenaline kind of took over
"(The home run) felt great. To be able to give the team the lead there after a tough loss last night and give us some momentum and give (starter Michael) Lorenzen some runs early, it definitely felt very good.
Philadelphia's Aaron Nola (9-7, 4.43 ERA) would appreciate some early run support as well on Friday when he squares off against Kansas City's Jordan Lyles (2-12, 6.15) in a battle of right-handers
Nola, 30, is looking to bounce back after allowing seven runs (five earned) on nine hits in 4 2/3 innings of a 7-6 setback against the Pittsburgh Pirates on Saturday
He lost his lone career encounter versus the Royals, yielding five runs on six hits in five innings of a 6-2 loss on July 2, 2016
Of course, that was more than seven years ago. Then again, Kansas City just completed the fifth perfect homestand of at least six games in franchise history on Thursday afternoon, and first since -- you guessed it -- 2016
Drew Waters launched a three-run homer and Bobby Witt Jr. also went deep in the Royals' 9-2 romp over the New York Mets on Thursday
"Obviously, we've dug ourselves an enormous hole record-wise, but like we've talked about all year, the effort's been there -- the intensity, the work and all those things -- so it's nice to see some rewards coming for the guys," Kansas City manager Matt Quatraro said
Lyles, 32, has rebounded from losing his first 11 decisions by going 2-1 over his past six trips to the mound
He benefited from an early 6-0 lead while permitting three runs on four hits in five innings of a 10-7 victory over the Minnesota Twins on Saturday
"Overall, I am pleased with the start," Lyles said. "Glad the guys came out and swung it well. That afforded me the chance to get five innings in.
Lyles is 1-1 with a 3.00 ERA in 11 career appearances (seven starts) against Philadelphia
--Field Level Medi