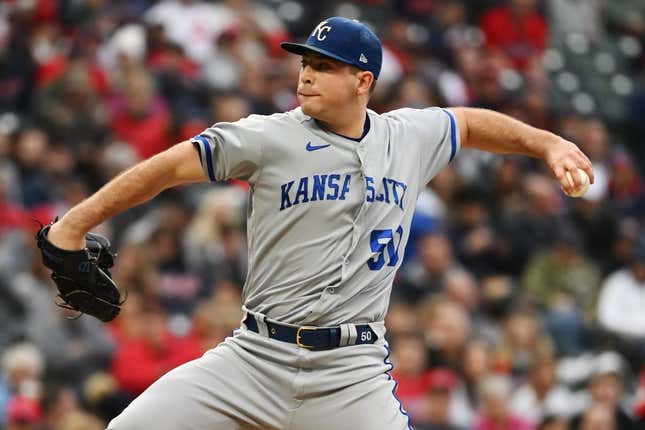 After losing their first three games of the season, the Kansas City Royals will be chasing their second straight win Tuesday night when they oppose the visiting Toronto Blue Jays
The Royals defeated the Blue Jays 9-5 Monday night in the opener of a four-game series
It was the third straight loss for the Blue Jays since they won on Opening Day against the host St. Louis Cardinals
"I thought (our hitters) were well-prepared," Royals manager Matt Quatraro said Monday after earning his first win as a major league skipper. "Just listening to what they were saying about how (Toronto starter Jose) Berrios was gonna pitch and what they were looking for, I thought they were well-prepared, and obviously, they squared some balls up.
The Royals' offense was dormant in their first three games of the season against the Minnesota Twins, getting shut out twice before a 7-4 loss on Sunday
"It's three games where we hit the ball hard," said Royals third baseman Hunter Dozier, who had an RBI groundout and a single on Monday. "We got guys on base. Just a lot of hard outs. When you see stuff like that, it's like, 'OK, maybe it's not as bad as it seems.'
The Royals will start left-hander Kris Bubic, who was 3-13 with a 5.58 ERA in 2022, in the second game of the series
Bubic has faced the Blue Jays only once in his career, in Toronto on July 17, 2022, when he yielded only two unearned runs in seven innings and had four strikeouts
Bubic was 1-0 with a 1.74 ERA in 10 1/3 innings with 15 strikeouts over five appearances at spring training.
The Blue Jays will go with left-hander Yusei Kikuchi, who was 6-7 with a 5.19 ERA in 2022
Kikuchi faced the Royals once last year, on June 8 at Kansas City, when he gave up three runs on two hits and four walks in two-thirds of an inning. In five career starts against the Royals, he is 0-2 with an 8.69 ERA
"Obviously I wasn't happy with what I gave (last season)," Kikuchi said. "I was telling myself, 'This can't be it. This isn't me.' Well, that went from spring to fall."
The Blue Jays hope he can help turn around a slow start by their rotation. Alek Manoah, Chris Bassitt and Berrios all struggled in their first start of the season
Kikuchi earned the fifth spot in the rotation with a strong spring training. He was 2-1 with a 0.87 ERA in seven Grapefruit League outings, six of them starts, covering 20 2/3 innings.
With a more aggressive approach and a new breaking ball, he impressed at spring training.
During the winter, he reviewed some footage of his own outings while also watching video of other successful pitchers, especially left-handers.
Kikuchi feels that the introduction of the pitch clock keeps him in a good rhythm because he cannot deliberate about his mechanics in the same way. He said that he is no longer overthinking the way he did last year.
"I just want to battle with the batter," he said. "Not against me, you know? Maybe last season I was overthinking mechanics, but this season, close to zero."
Berrios allowed eight runs in 5 2/3 innings on Monday in the latest disappointing outing for a Blue Jays starter
"The stuff was there, the consistency wasn't," Toronto manager John Schneider said. "It's tough when you're trying to climb out of a hole every game."
The Blue Jays are opening their season on a 10-game trip
--Field Level Media