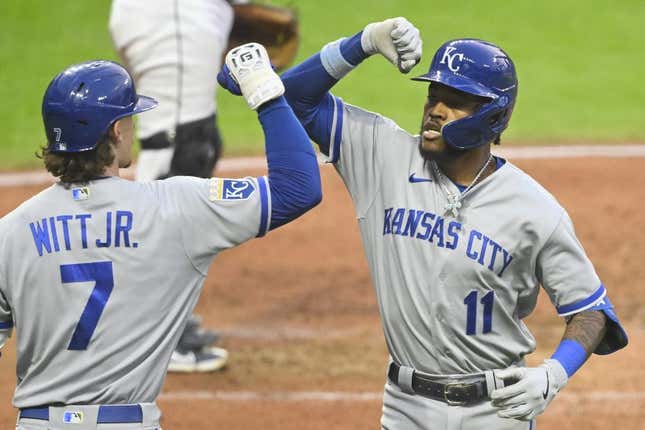 It's hard to think of the lowly Royals as an attacking baseball team, but when Kansas City comes out hot and hitting, the club finds a way to succeed
How running an NFL team is like running a restaurant | Chef Emeril Lagasse
Despite owning the second-worst record in the majors, the Royals are 22-5 on the season when they have led after six innings. That trend continued Monday when they jumped to an early advantage against the host Cleveland Guardians and held on for a 5-3 win
"I think everywhere we go, when we start early, we've got a lot of opportunity, a chance to win the game," said Salvador Perez, Kansas City's eight-time All-Star catcher. "I hope we can keep doing that (Tuesday)."
In the opener of the three-game series on Monday, Royals leadoff man Maikel Garcia and cleanup hitter Perez both homered and No. 2 batter Bobby Witt Jr. went 2-for-4 with a run
"Production, regardless of where we get it from, is a bonus," Kansas City manager Matt Quatraro said. "Those guys, we have them near the top of the order because we feel they have the chance to be the most productive guys. Guys go through streaks, but we hope we can keep them all productive going forward."
Cleveland manager Terry Francona is always wary of an ambush when facing the Royals
"They are ultra-aggressive early, and that's typical of that team," Francona said. "They swing the bats early, they're hitting the ball or fouling balls off, and your pitchers' pitch count goes up. And for us, sometimes we have a hard time keeping the line moving. I wish that wasn't the case, but that's just the way it is."
The scheduled Tuesday starting pitchers -- Kansas City's 39-year-old right-hander Zack Greinke and Cleveland's Aaron Civale, a five-year veteran -- have plenty of career experience against their opponents.
Civale (3-2, 2.71 ERA) beat the Royals 3-0 on July 7 in Cleveland, throwing seven two-hit innings with nine strikeouts and no walks
In his career, Civale is 3-1 in eight starts against Kansas City with a 3.50 ERA over 46 1/3 innings, striking out 44 against nine walks. However, he has allowed eight career homers to the Royals
Greinke (1-10, 5.40) has logged a 12-9 record and 3.40 ERA against the Cleveland franchise in 36 games (31 starts) during his 20-year career. He has 152 strikeouts in 188 innings vs. Cleveland -- but many of those were in better times for the veteran hurler.
On June 29 in Kansas City, Greinke got a no-decision after giving up 11 hits and two runs in six innings against the Guardians in a game the Royals won 4-3 in 10 innings. It was a contest typical of late-career Greinke, who allowed a lot of soft contact and recorded seven outs on ground balls and eight on fly balls
Greinke also showed off his veteran savvy and defensive skills (he has won six Gold Glove awards) in the fifth inning of that game by covering third base to tag out Josh Bell after all the Royals infielders had charged into shallow left field to chase a bloop single by Andres Gimenez
"I think there were three extra outs on the bases, which helped," said Greinke, who also picked off a runner in the game. "They win a lot of games doing that (being aggressive), and it just kind of worked out good for us today."
--Field Level Media