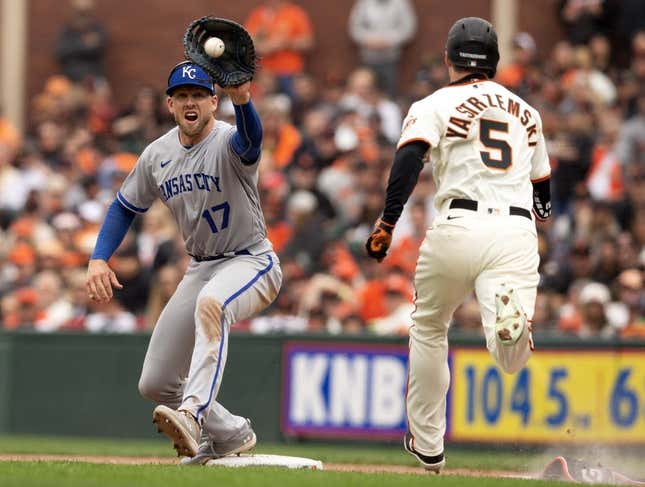 Salvador Perez belted the 224th home run of his career, Vinnie Pasquantino hit his first of the season and the Kansas City Royals opened a six-game trip with a 3-1 victory Friday afternoon, spoiling the San Francisco Giants' home opener
Bass' ERA stinks, but not compared to who he is off the mound | Worst of the Week Countdown
Nicky Lopez added an RBI single and right-hander Brad Keller (1-1) threw 5 2/3 innings of one-run, three-hit ball, helping the Royals snap a three-game losing streak with just their second win of the season
Alex Cobb (0-1) was the hard-luck loser for the Giants after holding the Royals to two runs on seven hits in seven innings. He struck out six and didn't walk a batter
After a run-scoring single by Blake Sabol had offset Lopez's RBI hit in the second, Pasquantino gave the Royals the lead for good with his blast to right field leading off the fourth. The homer was just the Royals' sixth of the season
Perez's homer, also his first of the year, came with two outs in the eighth off Giants reliever Taylor Rogers and provided an insurance run for the Kansas City bullpen, which took over after Keller was pulled two outs into the sixth
He walked three and struck out three in his victorious outing.
Ryan Yarbrough, Aroldis Chapman and Scott Barlow combined for 3 1/3 innings of two-hit, shutout relief to secure the win. Barlow was credited with his first save of the season.
The Giants got the potential tying runs on the bases in the ninth against Barlow on a leadoff triple by Joc Pederson and Brandon Crawford's two-out walk. But Barlow struck out Sabol to end it
Pasquantino also walked and singled for the Royals, who out-hit the Giants 9-5. The visitors had no extra-base hits other than the home runs
Pederson's triple was the only extra-base hit for the Giants, who had opened the season with 15 home runs in their first six games, all of which had been on the road
San Francisco has alternated losses and wins in each of their seven outings this season.
--Field Level Media