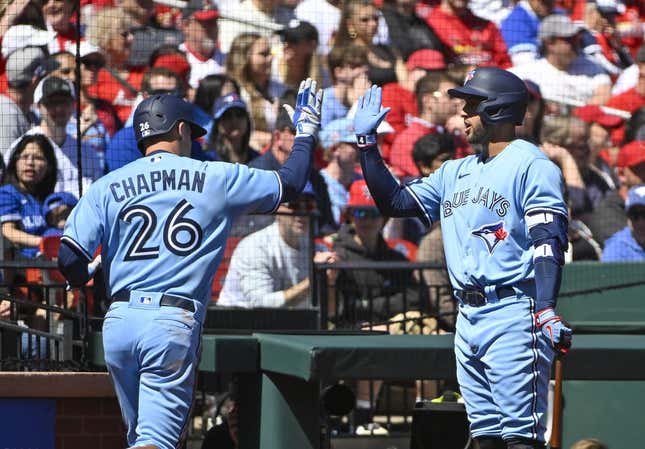 The Toronto Blue Jays and Kansas City Royals had different problems as they opened the season, but the overall result was mostly the same
The Blue Jays, who will begin a four-game series in Kansas City on Monday night, racked up 15 runs on 32 hits in three games in St. Louis. They head west on Interstate 70 having lost two of the three games
The Royals fared worse, losing all three to the visiting Minnesota Twins and scoring only four runs on 12 hits
It took three games for Kansas City to get on the board at all, when Edward Olivares lined a solo homer in the second inning Sunday to tie the game at 1-1. By the time Matt Duffy cracked a two-run shot in the seventh, the Royals still were down 6-3 en route to losing 7-4
Duffy viewed the game as showing some signs of offensive momentum.
"The beginning of the season is tough because everyone is looking for that first hit," he said. "Once you get that out of the way, you can settle into the season. It was a tough first couple of games, but adjustments were made, which is what you look for in a young team."
A good place to start would be the top of the order: MJ Melendez, Bobby Witt Jr. and Vinnie Pasquantino. All in their second seasons, they're a collective 1-for-29 with 10 strikeouts.
"If those guys are on base, it is easier to score runs," said Royals manager Matt Quatraro, who also said his team is "working hard, the mood was good, and the work before that game was good, so it is not something to be concerned about.
Right-hander Brady Singer will make his season debut for the Royals on Monday. Entering his fourth season, Singer, who went 10-5 with a 3.23 ERA in 2022, will make his third start against the Blue Jays. He is 1-0 with a 2.45 ERA over 11 innings against them
He will be opposed by right-hander Jose Berrios, who is beginning his eighth season in the majors. In 19 career starts against the Royals, mostly from the first six years of his career in the Central Division with the Twins, Berrios is 6-4 with a 4.45 ERA
Kansas City's Franmil Reyes and Nicky Lopez are a combined 15-for-32 (.469) against Berrios, and Hunter Dozier has a homer, seven RBIs and four walks, but he's hitting just .192 against him.
Berrios went 12-7 last season, but his 5.23 ERA was almost a full run above his career average, and he said changes were in order.
"We have been trying to make adjustments to my delivery and pitching approach," Berrios told Jays Journal early in spring training. "Been working a lot on my core and lower body as well, hoping to strengthen my lower body so I can push off the mound harder."
Matt Chapman and Bo Bichette had six hits apiece in Toronto's weekend series in St. Louis. The Blue Jays got their lone win by scoring five runs in the final three innings to nip the Cardinals 10-9 on Thursday
The Royals will see a familiar face with the return of the versatile Whit Merrifield. The 34-year-old Merrifield, whom the Royals dealt to the Blue Jays last Aug. 2, has played one game at second base and another in left field for Toronto. He is 1-for-6 with two RBIs
--Field Level Media