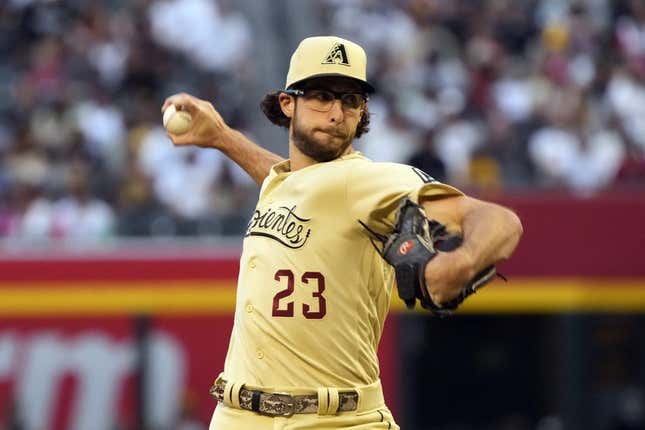 Zac Gallen is no stranger to keeping opponents off the scoreboard. On Wednesday, the Arizona ace looks to get his current scoreless-innings streak closer to the career-best stretch of zeros he posted last season.
Air Jordans are more American than McDonald's French fries | Deon Cole's Ultimate Sports Fantasy
The Diamondbacks right-hander will take the mound against the Kansas City Royals in the finale of a three-game series in Phoenix, trying to build on his streak of 21 2/3 scoreless innings
Gallen (3-1, 2.59 ERA) hasn't allowed a run in three straight starts while dominating opposing hitters with his fastball and wicked curveball.
The strong stretch is reminiscent of his franchise-record streak of 44 1/3 scoreless innings last season when he went unscored on over six straight starts and the first three innings of a Sept. 11 outing against the Colorado Rockies.
Gallen's summer dominance helped him finish fifth in the National League Cy Young Award balloting.
The 27-year-old is expected to be one of the leading contenders this season. Thus far, he has 39 strikeouts with just 20 hits and five walks allowed in an NL-leading 31 1/3 innings.
In his last outing, Gallen struck out 11 without a walk and gave up two hits in seven innings while beating the San Diego Padres.
Gallen doesn't view the streak as any big deal.
"My job is to go out there and try and throw up as many zeros as possible, keep us in the game, give us a chance to win," Gallen said. "There's no secret sauce, really. In big spots, just kind of buckle down and try and make pitches."
Veteran pitching coach Brent Strom sees the Arizona ace as one of the best pitchers in the business.
"I consider Zac one of the top three starting pitchers in baseball today," Strom told the Diamondbacks' television network. "What he's doing is quite remarkable. Great command, great spin, great speeds and he understands the game.
Gallen has two no-decisions and a 4.76 ERA in 11 1/3 innings against the Royals in his career. MJ Melendez is 2-for-6 with a homer against Gallen
Melendez (lower back) missed the first two games of the series but could be available Wednesday.
"He's feeling better," Kansas City manager Matt Quatraro said of Melendez on the Royals' television network. "It has loosened up considerably. They're going to take it little by little ... and see how it goes.
The teams traded 5-4 victories in the first two games of the series.
Kansas City racked up 14 hits in Tuesday's victory while winning for just the second time in its past 11 games.
Nicky Lopez, Michael Massey and Edward Olivares each had two hits and one RBI, and Kyle Isbel, Salvador Perez and Bobby Witt Jr. also had two hits apiece.
Scott Barlow recorded the last five outs for his third save of the season. Arizona had runners on second and third with two outs in the ninth before Barlow retired Christian Walker on a grounder to end it.
"It's just really one pitch at a time," Barlow said. "As cliche as it sounds, it's the absolute truth. I know after that leadoff double it's not maybe the most ideal situation, but in my mind he hasn't scored yet."
Arizona's Corbin Carroll had three hits, two steals and two runs in Tuesday's game.
Kansas City left-hander Ryan Yarbrough (0-2, 7.62) will make his first start of the season after being torched for 11 runs and 15 hits in 13 innings over seven relief appearances.
He stretched his arm out with four innings of relief against the Los Angeles Angels last Friday. He gave up three hits and two runs -- both scoring on Chad Wallach's homer -- while taking the loss.
Yarbrough, 31, has never faced the Diamondbacks. The former Tampa Bay Rays pitcher has seen plenty of Lourdes Gurriel Jr. (8-for-32, one homer) during his career
--Field Level Media