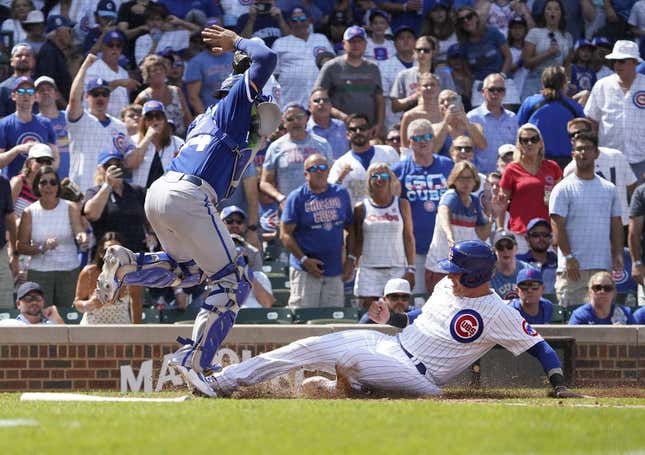 It's been more than a month since the Chicago Cubs lost a series at home.
Meanwhile, the Kansas City Royals can win just their third road series of the season with a victory in Sunday's rubber game against the Cubs in Chicago.
How running an NFL team is like running a restaurant | Chef Emeril Lagasse
The Royals recorded a 4-3 win in the series opener on Friday before the Cubs rode a pair of Cody Bellinger home runs to a 6-4 victory on Saturday. In the hunt for both the National League Central title and a wild-card spot, Chicago is 12-5 at home since it last dropped a series there from July 14-16, losing two of three to the Boston Red Sox.
"Playing to our strengths, offensively, defensively," Bellinger told Marquee Sports Network about the keys to Chicago's current status as a postseason contender.
"Playing as a team. Having fun doing it. And, doing it for the guys around us."
The Cubs, though, will look to snap a four-game losing streak in outings made by Sunday's scheduled starter Kyle Hendricks (4-6, 4.00 ERA), who has just one winning decision in his past 10 trips to the mound.
The right-hander, however, did record a quality start on Tuesday after allowing three runs and seven hits over six innings of a 5-3 loss to the Chicago White Sox.
Hendricks has permitted two runs over 13 innings in going 1-0 over two career starts against Kansas City.
He has yet to face budding Royals star Bobby Witt Jr., who had three hits with an RBI and stole two bases on Saturday. Witt, who also homered in Friday's series opener, is batting .430 with eight home runs and 28 RBIs in his past 20 games.
"It's impressive," Kansas City manager Matt Quatraro said about Witt's recent play.
"It's something you can't take for granted."
Kansas City is a dismal 17-45 away from home and has not won a road series since taking two of three at San Diego from May 15-17. It's only other winning road set came against the San Francisco Giants on April 7-9.
If the Royals are to achieve another successful road series, they'll likely need to see improvement from scheduled starter Jordan Lyles (3-13, 6.30). The right-hander is 2-2 in his past five starts, despite posting a 7.22 ERA. He yielded seven runs (six earned) and nine hits — including four homers — in five innings of a 10-8 loss to Seattle from Tuesday.
Lyles is 4-3 with a 5.47 ERA in 10 career starts against the Cubs while pitching for the Houston Astros, Colorado Rockies, Pittsburgh Pirates and Baltimore Orioles.
Chicago's Dansby Swanson, who is 3-for-6 with a homer versus Lyles, is hitting just 4-for-35 with 12 strikeouts in his last 10 games.
Bellinger is 0-for-4 against Lyles.
His Chicago teammate Nico Hoerner is batting .417 (15-for-36) in the last 10 games.
Meanwhile, Kansas City star Salvador Perez had two hits on Saturday and is 12-for-27 in his last seven contests.
—Field Level Media