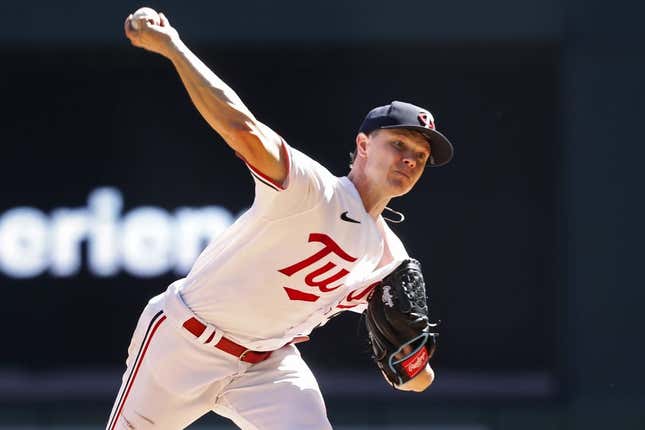 The Kansas City Royals will seek back-to-back wins for the first time since April 7 and 8 -- and just the second time all season -- when they finish a four-game road series on Sunday in Minneapolis against the Minnesota Twins
Does Jimmy Butler have the best NBA Finals origin story? | Agree to Disagree
The Royals scored single runs in the eighth and ninth innings on Saturday to gain a 3-2 win, snapping a three-game skid that included the first two games of this weekend's divisional series against the Twins
"It felt really, really good," Royals relief pitcher Scott Barlow told Bally Sports Kansas City following his team's win on Saturday
Barlow recorded his fourth save of the season and has saves in each of Kansas City past three wins.
Of the seven victories the Royals have this season, Saturday's was the third by one run. The importance of every bit of offense Kansas City could muster in another such close contest underscored the importance of Edward Olivares going 2-for-3, including a double and scoring twice
Olivares rides an eight-game hitting streak into Sunday's contest, including three multiple-hit outings in the last four games. He also has delivered extra-base hits in all three of those multiple-hit outings.
To keep that going, Olivares will have to figure out one of the most dominant starting pitchers in the majors through the first month of the season.
Right-hander Sonny Gray (3-0, 0.62 ERA) will take the mound for the Twins, looking to continue an outstanding start to the season. He has allowed just two earned runs in five starts and surrendered only three hits in five scoreless innings his last time facing the Royals on April 1
That win made Gray 8-2 in his 11 career starts vs. Kansas City. He has a 1.54 ERA and 60 strikeouts against them.
Gray improved to 3-0 in his last start, throwing seven innings Monday against the Yankees. He struck out eight and did not allow a run in a 6-1 Minnesota victory.
Brady Singer (2-2, 6.67) will start Sunday's series finale for Kansas City. The right-hander pitched six innings and gave up just one run in his last start, Tuesday at Arizona. Singer allowed one earned run in each of his two wins on the season, the first coming April 3 against Toronto.
Singer is just 2-5 in nine career starts against Minnesota but won the most recent one when he went 5 2/3 innings with eight strikeouts last May 28.
Minnesota will look to get back on a roll at Singer's expense. Prior to Saturday's loss, the Twins had won five of their last six games. That hinges in part on converting hits -- of which the Twins had 10 on Saturday -- into runs
"Over the last week, we have had good at-bats, just like we did today, except two or three times during the game, someone whacks one (into an out) with some guys on base," Minnesota manager Rocco Baldelli said in his post-game press conference.
Crucial to Minnesota's offensive production since April 21 has been Jorge Polanco, who has hit safely in every game since joining the Twins' lineup. He extended his hitting streak to eight outings on Saturday with a 2-for-5 performance but was tagged out on a deep, first-inning knock he believed to be a home run
--Field Level Media