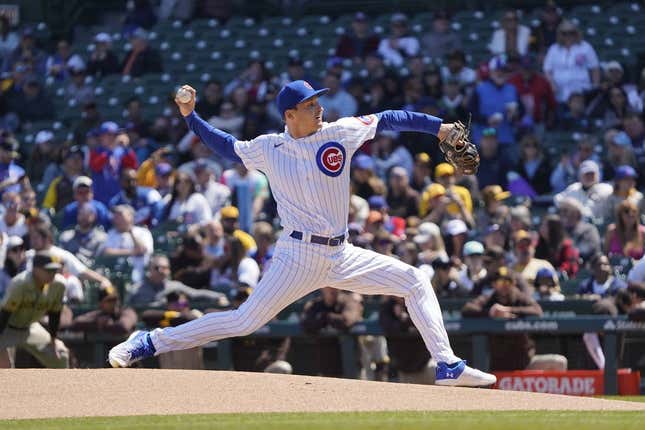 The Chicago Cubs have been pitching at a strong clip and are looking to get better still when they take on the offense-challenged Washington Nationals on Tuesday night
Bass' ERA stinks, but not compared to who he is off the mound | Worst of the Week Countdown
The Nationals have lost four of their last five games after Monday night's 5-1 setback that started the four-game series
Chicago has allowed two or fewer runs in 12 of its 15 victories this season.
The Nationals have failed to score more than one run in eight games this season. They were so weak at the plate in the series opener that they left only four runners on base
"We hit some balls good, but we really couldn't get anything going," Washington manager Davey Martinez said.
The Cubs will go with Hayden Wesneski (2-1, 5.24 ERA) as its starting pitcher. Chicago has won four of his five starts this season
The right-hander had adjusted his pregame formula, throwing fewer pitches during warm-up sessions per a suggestion from teammate Marcus Stroman.
"Me and him are similar pitchers," Wesneski said. "We do similar things. He has been there, done that. He has thrown a lot of innings. He has eaten up innings."
Cubs manager David Ross said it's a matter of simplifying to "where you feel like you're ready and also not doing too much.
In 11 career outings, including five starts this year, Wesneski has never faced the Nationals
Cubs lefty starter Drew Smyly, who went seven innings on Monday night, said the Chicago defense has been instrumental in the strong pitching numbers
"You feel really comfortable as a pitcher to fill the strike zone and be aggressive and let them put it in play," Smyly said.
The Nationals are looking for a boost at the plate, perhaps from infielder Luis Garcia, who has multiple hits in three of his last nine games
"A lot of it has to do with preparation," Martinez said. "I think all our young kids are doing really well."
Washington made progress Monday night in that its batters struck out only five times.
"If they're going to flip you a breaking ball, there's no need for you to really chase it if you're looking for a fastball," Martinez said.
Washington will give the ball to right-hander Trevor Williams (1-1, 4.10) on Tuesday.
"He has done awesome," Martinez said. "He keeps you in the ballgame. That's what we expect of him. He goes out there and competes."
Williams, who pitched for the Cubs for part of the 2021 season, had his worst outing of this season on Thursday. He gave up four runs and nine hits with two walks in five innings to the New York Mets. He took a no-decision as the Mets won 9-8
Still, Martinez said Williams has the right combination of pitching tools.
"He has got a mix of four pitches," Martinez said. "I felt like that was important with what we're trying to do here."
Williams is 4-7 with a 5.19 ERA in 15 games (11 starts) against the Cubs. His 67 2/3 innings vs. the Cubs are his third-highest against any club, following St. Louis (79) and Cincinnati (73)
--Field Level Media