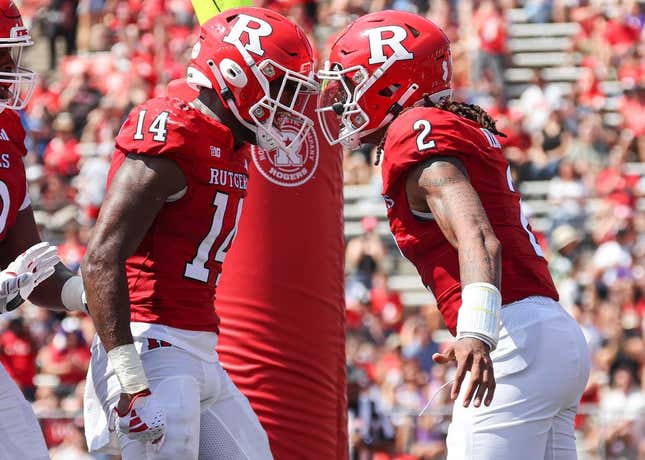 While Rutgers' 2022 season was a story of blown leads, missed opportunities and ugly setbacks, the Scarlet Knights' current campaign got off to a very different start.
How running an NFL team is like running a restaurant | Chef Emeril Lagasse
Coming off a crisp season-opening win, Rutgers (1-0) will take aim at Temple on Saturday when the Owls (1-0) visit Piscataway, N.J.
The Scarlet Knights lost eight of their final nine games in 2022, including lopsided defeats against Ohio State (49-10), Minnesota (31-0), Michigan (52-17), Penn State (55-10) and Maryland (37-0). They were competitive in several other games, but coach Greg Schiano came into this season emphasizing the importance of playing well for four quarters.
"The ability to (play) 60 minutes of football, that's what our goal is," Schiano said after a 24-7 triumph over Northwestern on Sunday. "And if you can do that, whether you win or you lose, then you know did your best. ... And for the most part, I thought we did that today. I thought there was a little bit of maturity about our team today."
Schiano was particularly pleased with the play of Gavin Wimsatt, who racked up 163 passing yards and 33 rushing yards, with one touchdown through the air and another on the ground.
"He played a really clean game," Schiano said. "I think he played relaxed and confident, because of his preparation."
Temple edged Akron in its opener, squeaking out a 24-21 win thanks to E.J. Warner's fourth-quarter touchdown pass to Edward Saydee. Warner threw for 292 yards and two touchdowns — both to Saydee, who finished with five catches for 37 yards.
"They had way more in the tank than they were giving," coach Stan Drayton said of his team's first-half performance, as the Owls trailed 21-10 at the break before rallying for the win. "We can't pick and choose when we give the maximum effort that it takes to win a football game."
Rutgers leads the all-time series 22-15, including six wins in a row. The Owls have not defeated the Scarlet Knights since 2002.
—Field Level Media