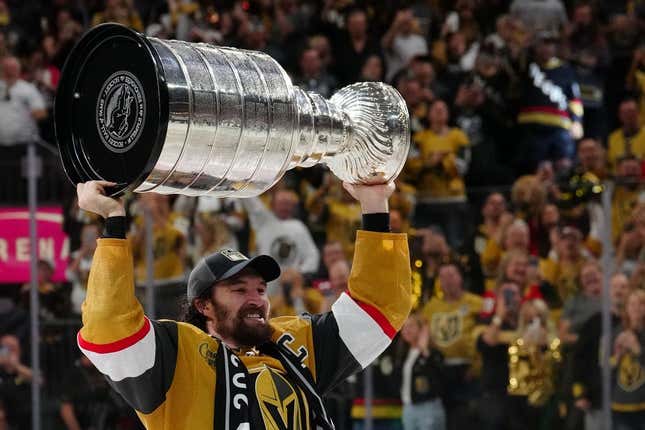 Where are the Stanley Cup champion Vegas Golden Knights going from here?
Yes, they benefited from extremely favorable expansion draft rules when they joined the league in 2017.
How running an NFL team is like running a restaurant | Chef Emeril Lagasse
Yes, the Golden Knights maneuvered the salary cap this season by using long-term injury relief, notably with captain Mark Stone, to ice a team that ended up nearly $14 million above the $82.5 million salary cap. It is worth noting that $5 million of that money went to goaltender Robin Lehner, who missed the entire season due to surgeries.
Along the way to winning the Stanley Cup in just their sixth season of existence, the Golden Knights succeeded because of another factor: no team was more ruthlessly business-like in its decisions.
How many other teams are willing to follow similar moves will be worth watching.
En route to their title, the Golden Knights had no qualms about making tough calls on players. They traded the extremely popular Nate Schmidt in October 2020 to free up the money to sign Alex Pietrangelo.
Face-of-the-franchise goaltender Marc-Andre Fleury was dealt to the Chicago Blackhawks after the 2020-21 season to give the net to Lehner. Max Pacioretty, who was acquired from the Montreal Canadiens in 2018 for Nick Suzuki -- arguably the best draft pick made by the Golden Knights and now a cornerstone player for the Canadiens -- essentially was given to the Carolina Hurricanes to keep them under the cap.
They also have not been afraid to make coaches walk the plank. Bruce Cassidy is already their third bench boss.
Curiously, the Golden Knights will be able to go into next season with essentially the same roster. With or without Lehner returning, Vegas also has enough salary cap space to have no concerns about the bottom line.
Beyond the next couple of seasons, the Golden Knights are facing more tough calls.
This is a veteran-heavy team, especially in key positions, and the franchise has a dubious draft record. Only one player selected by Vegas in the draft played any games for the team in this year's playoffs.
How they rebuild will be fantastic theater down the road. To their credit, the Golden Knights' braintrust has shown no fear facing down roster challenges.
--By Randy Sportak, Field Level Media