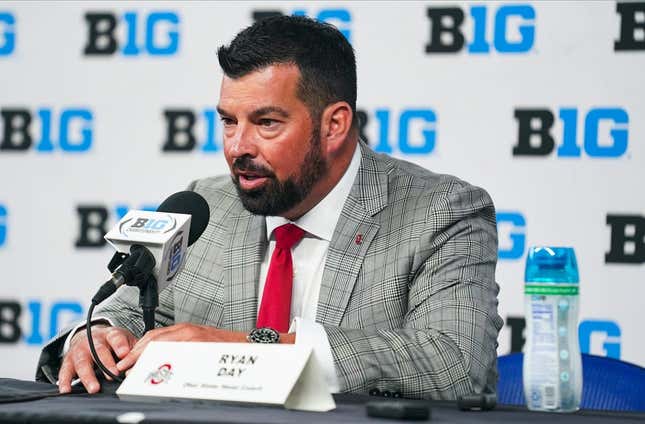 It's "not ideal," head coach Ryan Day said, as Ohio State's starting quarterback competition appears set to continue into the regular season.
How running an NFL team is like running a restaurant | Chef Emeril Lagasse
Neither Kyle McCord nor Devin Brown have fully seized the No. 1 quarterback job in the coaching staff's eyes, Day told reporters Monday.
Ohio State, ranked No. 3 in the preseason AP Top 25 poll released Monday, will open its season Sept. 2 at Indiana.
"That's something we have to decide this week, probably," Day said. "Are we ready to name someone by the end of the week or does the competition continue into the season? That's not ideal, but if that's where we're at, that's what we'll do."
By this point of fall camp in recent Buckeyes seasons, the program was ready to name a starting quarterback. Past starters included Justin Fields and C.J. Stroud.
Day initially pictured a similar timeline for this year's camp and had a press conference scheduled for Wednesday before moving it up to Monday.
"In C.J.'s or Justin's year, it was probably about that time (that we named them the starter), practice 12 or 13," Day said. "But we're not there right now."
Ohio State held a scrimmage on Saturday, but Day and his staff didn't see enough from either McCord or Brown that would significantly alter their competition.
McCord has seen limited game action in relief of other quarterbacks over the past two seasons. He has tallied 606 yards on 41-of-58 passing, with three touchdowns and two interceptions.
Brown was an early enrollee in January 2022 and appeared in two games last season before redshirting. He missed the end of spring practices and the spring game due to a finger injury but is healthy now.
"I do wish that somebody had really emerged," Day said. "I don't think, right now, it's two guys that are just blowing it out of the water to where you're like, 'Oh my God, I don't know who's going to play.' But it's also not like they're not doing well either. There's really good play out there, there's ability. Now we're just looking for consistency."
—Field Level Media