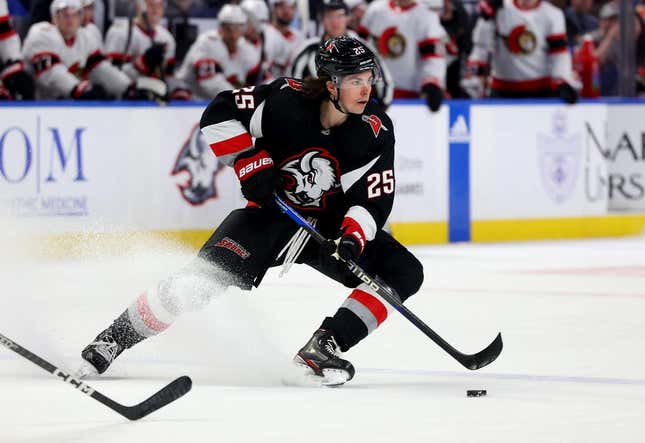 After a big win in their home finale, the Buffalo Sabres look to wrap up the season on a high when they visit the Columbus Blue Jackets on Friday
Chris Paul should ride the bench next season | Keep it a Buck(et)
The Sabres (41-33-7, 89 points) are coming off a 4-3 overtime victory against the Ottawa Senators on Thursday, a triumph that closed the curtain on a stellar 20-year NHL career for veteran goalie Craig Anderson
A win against Columbus would give Buffalo its most victories and most points since recording 43 victories and 96 points in 2010-11, the last time the team qualified for the Stanley Cup playoffs. The Sabres came close to ending that drought this season, staying in the thick of the race until falling to the New Jersey Devils on Tuesday, in their 80th game of the season
"The same feeling that the guys had the other night is the same feeling that you have when you lose in the playoffs," Anderson said prior to the game against Ottawa. "You get that empty feeling of defeat. ... You work so hard to try to achieve something and it's a huge letdown.
"It's not what happens to you, it's how you respond. I'm really looking forward to how we come out and respond not only today but through our offseason and what that mindset is moving forward."
Casey Mittelstadt had an overtime goal and an assist against the Senators, giving him eight points (four goals, four assists) in a five-game point streak. He has 15 points (four goals, 11 assists) in his past 10 games -- most of that time spent between wingers Jeff Skinner and Alex Tuch.
Buffalo center Tage Thompson will not play against Columbus. The center left the game against Ottawa late in the third period due to the upper-body injury he had been playing through.
The Blue Jackets (25-47-9, 59 points) head into the season finale after rallying for a 3-2 overtime win against the visiting Pittsburgh Penguins on Thursday
The victory, which moved Columbus out of last place in the NHL and out of the best odds for the NHL draft lottery, was just the second in 10 games (2-6-2) for the Blue Jackets
"We found a way," said Columbus defenseman Andrew Peeke, who scored a goal. "Took a little extra than 60 minutes, but it's a big, big boost for our group, finding a way to win that game, being down in the third period and getting one back there at the end and winning it."
The battered Blue Jackets, who have been besieged by injury this season, had four players make their NHL debuts -- forwards Mikael Pyyhtia and Tyler Angle and defensemen Samuel Knazko and Stanislav Svozil
"It's not regular to get this many young guys, but I think it brings a different energy to the lineup," Pyyhtia said. "It never gets old playing in the NHL, but when it's brand new, you definitely have a little more excitement."
Pyyhtia and Svozil each notched an assist.
Johnny Gaudreau, one of the handful of healthy veterans on the team, ended a seven-game goal drought by tallying one minute into overtime against Pittsburgh. He leads the Blue Jackets with 53 assists and 73 points
--Field Level Media