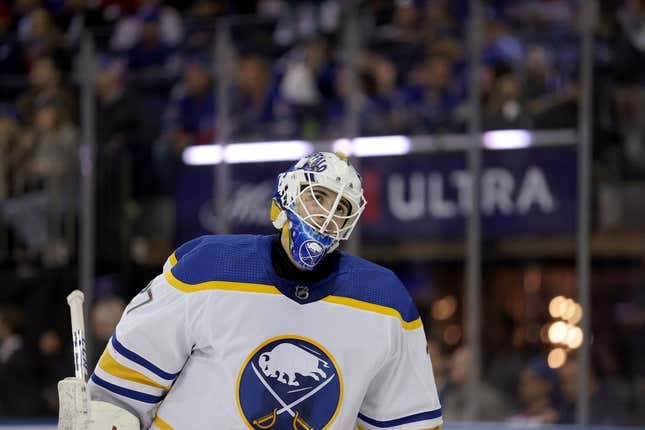 The Buffalo Sabres hope to stay alive in the playoff chase when they visit the New Jersey Devils on Tuesday night in Newark, N.J
Does Jimmy Butler have the best NBA Finals origin story? | Agree to Disagree
The Sabres (40-32-7, 87 points) are four points out of the second and final wild-card spot from the Eastern Conference after rallying for a 3-2 shootout win against the New York Rangers on Monday
That victory -- combined with a regulation loss by the New York Islanders (41-31-9, 91 points) -- kept the Sabres' hopes alive with three games to play
Buffalo holds two games in hand on the Islanders, who hold the second wild-card position in the Eastern Conference.
"It means a lot, honestly," Sabres forward Alex Tuch said of the team still being in contention for a playoff spot heading into its 80th game of the season. "Keep battling each and every day. The whole season obviously hasn't gone our way, and we're on the outside looking in, but we're still working. We're still pushing. Until we're out, we're not going to stop.
In addition to helping themselves, the Sabres will need outside assistance to qualify for the postseason for the first time since the 2010-11 season
Buffalo will need to beat out the Islanders and Florida Panthers (42-31-8, 92 points) in points, as those teams hold the edge in regulation wins, the first tiebreaker. There's also the Pittsburgh Penguins (40-30-10, 90 points), who are one point out of the second wild card. The Sabres have a game in hand on Pittsburgh
"You've got to control what you've got control over," Buffalo coach Don Granato said.
While Devon Levi was in goal Monday, Granato didn't rule out going back to the rookie Tuesday.
"That decision has not been made," Granato said. "There's lots of things you need to find out before you make that decision. I wouldn't hesitate to (play) him if all goes well, but we'll see."
The Devils (50-22-8, 108 points) will have plenty of motivation of their own on Tuesday even though they already have clinched a playoff berth
New Jersey sits in second place in the Metropolitan Division, one point ahead of the Rangers (47-21-13, 107 points) and one point behind the first-place Carolina Hurricanes (50-21-9, 109 points). The Devils have a game in hand on New York and are even on that front with Carolina
An improved defense and stronger play in net has helped New Jersey get to where it is this season. After ranking fourth-worst in the NHL in goals allowed and in the bottom third in shots against last season, the Devils are eighth in the league this season in goals-against and fifth in shots allowed
"I think we've surprised a lot of people with where we're at defensively," coach Lindy Ruff said. "It's something that we continue to work on, work on that part of our game every day, and we realize that if we're going to be successful, we've got to play well away from the puck. If you're going to win in the playoffs, you have to be able to win the tight games, be able to win the low-scoring games."
It's the final home game of the regular season for the Devils, but it could be the first game for defenseman Luke Hughes, the fourth overall pick in the 2021 NHL Draft. Hughes, the younger brother of forward Jack Hughes, signed his three-year, entry-level contract Saturday
Ruff said Monday he will play at some point in the final two games.
"I know I'm ready," Luke Hughes said. "I feel very prepared to play. I'll be ready if my name gets the call."
--Field Level Media