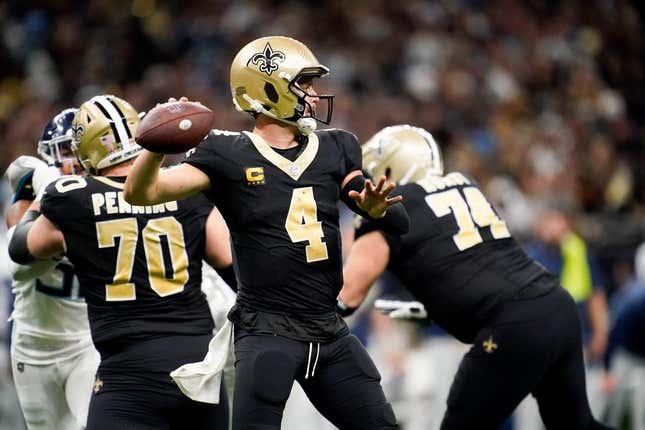 The New Orleans Saints won their first game with their new quarterback.
The Carolina Panthers lost their first game with a new signal caller.
Now Derek Carr and the Saints will visit Bryce Young and the Panthers on Monday night.
How running an NFL team is like running a restaurant | Chef Emeril Lagasse
Carr, signed as a free agent after nine seasons with the Raiders, passed for 305 yards and the game's only touchdown in the Saints' 16-15 victory against the visiting Tennessee Titans last week.
Young, the 2021 Heisman Trophy winner and 2023 No. 1 overall draft choice, passed for just 146 yards and a touchdown in a 24-10 loss at the Atlanta Falcons last week.
Carr visited with the Panthers during free agency before deciding to sign with the Saints, which contributed to Carolina's decision to trade up and grab Young at the top of the draft.
Now Carr and Young are beginning an NFC South rivalry.
"There were a couple of plays where I felt like I left points on the field," Carr said of his New Orleans debut. "On offense all 11 guys have to do the right thing in order for a play to work."
Carr had a limited running game to work with. The Saints finished with just 69 yards while leading rusher Alvin Kamara served the first game of a three-game season-opening suspension for violating the NFL's personal conduct policy.
"If we're going to go where we want to go," Carr said, "the running game is going to be a big part of it."
Jamaal Williams, formerly of the Detroit Lions, rushed 18 times for 45 yards and Tony Jones Jr. (one rush for 5 yards) was the only other running back to carry the ball against the Titans. Rookie third-round draft choice Kendre Miller (hamstring) missed the opener, but practiced on a limited basis Thursday.
The ineffectiveness of the running game and the low point total in the opener didn't matter, because New Orleans extended its streak of games in which it has allowed 20 or fewer points to nine.
Young, whose longest completion gained 14 yards, was intercepted twice by Jessie Bates III. He'll be facing a Saints defense that intercepted Tennessee's Ryan Tannehill three times.
"I don't think we executed when it was (most) important," Young said. "You always want to have explosive plays, but that wasn't what we were able to do. There's good stuff on film that we have to continue to do and then there's stuff that obviously we have to learn from, that I have to learn from."
First-year Carolina coach Frank Reich made the first start of his career as an NFL quarterback in 1989 on "Monday Night Football."
He said he will try to prepare Young and the team's other rookies for the unusually long wait that accompanies playing on Monday night.
"Every step for Bryce is a new step in the NFL," Reich said. "But at the same time he's played on a big stage his whole life. So enjoy the moment."
The Panthers lost starting left guard Brady Christensen for the season due to a biceps injury suffered against Atlanta, and starting cornerback Jaycee Horn is out indefinitely because of a hamstring suffered in the game.
—Field Level Media