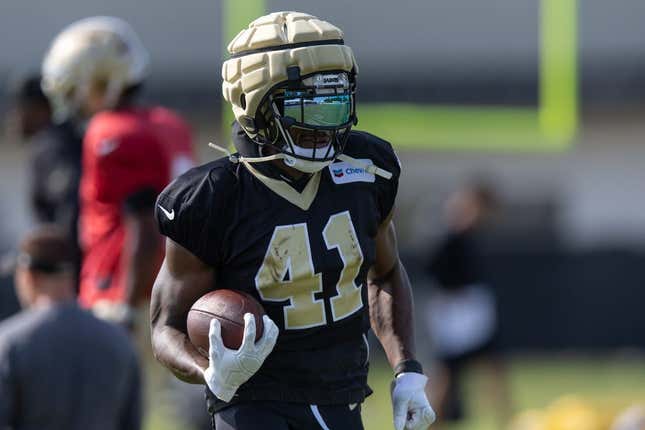 The NFL suspended New Orleans Saints running back Alvin Kamara for three games to start the upcoming season over his involvement in a February 2022 fight in Las Vegas that left a man injured, multiple outlets reported Friday
How running an NFL team is like running a restaurant | Chef Emeril Lagasse
The NFL's decision comes after Kamara met with commissioner Roger Goodell earlier this week in New York
Also suspended for three games for violating the NFL's personal conduct policy was Indianapolis Colts cornerback Chris Lammons, who also was involved in the incident
Kamara and Lammons had been facing a felony charge stemming from the fight, but in July, each agreed to plead guilty to misdemeanor breach of peace. Both players were sentenced to 30 hours of community service and required to pay more than $100,000 to the victim for medical bills
Earlier Friday, after practice, Kamara told reporters that he exercised "poor judgment" in the incident and apologized for his involvement
"It's a tough ordeal to be in," Kamara said. "You know, I never want to be involved in something where someone gets hurt or severely injured or anything. Poor judgment on my end, definitely a bad decision, but I'm a man. Everything I've ever done in my life, I've stood on. And I can take accountability for it and I can say when I'm wrong and I was completely wrong.
The incident occurred at Drai's After Hours nightclub, located in the basement of the Cromwell Hotel, the night before the Pro Bowl in February 2022
Kamara said he isn't asking for sympathy and reiterated he was wrong
"Lost a lot throughout this ordeal, definitely not looking for any pity, not looking for somebody to give me a pat on the back and say it's OK," Kamara said. "I know what I did, I know what I was involved in. I definitely take responsibility and that's part of being a man and growing. From here, I just have to make the right decisions.
Kamara, 27, appeared in 15 games (13 starts) and ran for 897 yards and two touchdowns in 2022. The five-time Pro Bowl selection added 57 catches for 490 yards and two TDs
He added Friday that his actions were out of character
"You never want to be in a situation where, especially the position I'm in, being a leader, being just kind of like a role model, I don't want to be in a position where I put my hands on somebody. That's the last thing you want to do," Kamara said
Lammons, 27, appeared in 16 games with the Kansas City Chiefs last season and made seven tackles and forced a fumble. He signed recently with the Coltss
Both players are eligible to take part in training camp and preseason games, then return to their teams' active rosters on Sept. 25
--Field Level Medi