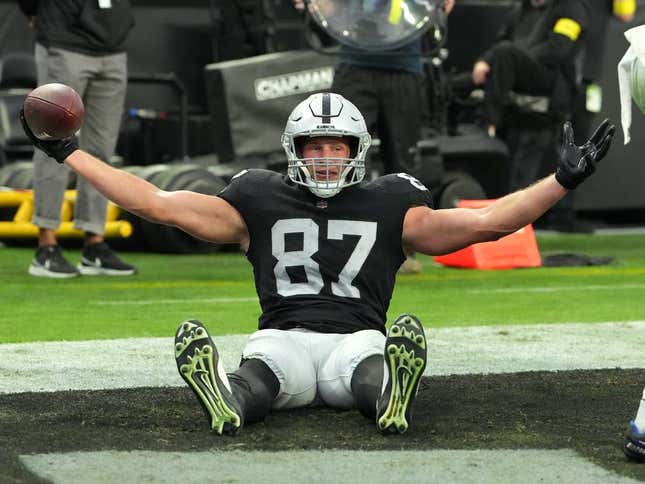 Tight end Foster Moreau is gearing up for organized team activities with the New Orleans Saints next week despite a cancer diagnosis 60 days ago
Air Jordans are more American than McDonald's French fries | Deon Cole's Ultimate Sports Fantasy
Moreau said last week he has a very positive prognosis for a full and healthy recovery from treatment for Hodgkin's lymphoma.
Saints head coach Dennis Allen said on Monday that opens the door to Moreau being on the field with teammates next week
Allen said all parties are leaning on medical professionals to guide their decision.
"Dr. (John) Amoss felt really positive about not only the treatment plan, but also his recovery and his ability then to participate," Allen said. "So I really don't anticipate that to be a challenge that we're going to have to deal with. Obviously it's a serious medical condition, so you don't ever want to take that lightly."
Allen said it was "absolutely" a possibility when pressed on Moreau participating next week. Amoss made the cancer discovery during Moreau's free agent visit with the Saints
The first scheduled OTA session for the Saints is May 23
"We've only had (Moreau) here for a couple of days, but I like the addition. I like the person, I like the player," Allen said. "He's got some versatility, he can play both in-line and the move position. He's smart, he's tough, he has a lot of the characteristics that we look for in a Saints player. I like the fact that (quarterback) Derek (Carr) has some familiarity with him.
When he signed his three-year, $12 million contract with the team last week, Moreau was wearing a Team Gleason "No White Flags" shirt and New Orleans Pelicans star Zion Williamson's Jordan 1 Low "Voodoo" sneakers while putting pen to paper. The shirt honors the charity foundation managed by former Saints star Steve Gleason and his family
Moreau, 26, spent his first four seasons with the Raiders, and he will be reunited in New Orleans with Carr, who spent nine seasons with the Raiders. Moreau stepped away from football in March after revealing his diagnosis with Hodgkin's lymphoma.
According to ESPN, the New Orleans native and former LSU player has received a positive prognosis for his cancer recovery and is planning to play in 2023.
Moreau recorded 33 receptions for 420 yards and two touchdowns in 15 games (14 starts) with Las Vegas in 2022. In 61 career games (34 starts), he has 91 catches for 1,107 yards and 12 scores. He was a fourth-round pick in the 2019 draft out of LSU.
--Field Level Media