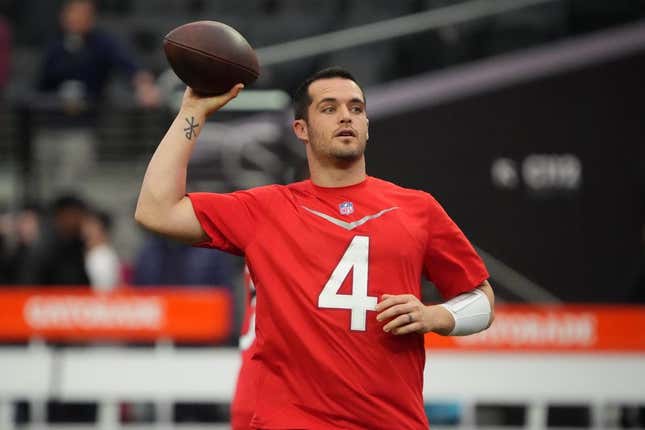 Free agent quarterback Derek Carr and the New Orleans Saints finalized a four-year contract worth a reported $150 million on Monday.
Carr gets $70 million guaranteed, including $60 million at signing, according to multiple reports. The other $10 million comes after Year 3. Carr agreed to a structure that was friendly to the Saints' salary cap issues.
Carr was drafted in 2014 by the Oakland Raiders with Dennis Allen as head coach. While the franchise moved to Las Vegas and decided late last season to move on from Carr, he'll rejoin Allen and take the reins of the Saints' offense after spending nine seasons with the Raiders.
"I had the opportunity to work with Derek at the start of his professional career," Allen said. "In addition to his talent, I admired his approach to the game, work ethic and commitment to get better every day in what were the formative stages of his career. From afar and when we played him as an opponent, I saw Derek's development into one of the most productive quarterbacks in the National Football League."
Carr had a jumpstart on the unrestricted free-agent class because he was released last month. The Raiders faced a Feb. 15 deadline to pick up the guarantee on his contract that would've included more than $40 million in payments.
The Saints were in limbo at the position and were the first team to host Carr last month. They had permission from the Raiders at the time, hoping to facilitate a trade. But Carr refused to waive his no-trade clause, entering free agency and meeting with the New York Jets and Carolina Panthers after his two-day New Orleans trek.
The Saints began last season with Jameis Winston as their starter but used Taysom Hill and Andy Dalton on the way to a 7-10 season.
In his nine seasons with the Raiders, Carr played for six head coaches, went 63-79 as a starter and led the team to the playoffs twice without a win. He didn't play in the 2016 season postseason game due to a broken leg.
Carr, who turns 32 later this month, set franchise records of 35,222 yards and 217 touchdowns. He is a four-time Pro Bowl selection, including this season when he passed for 3,522 yards, 24 touchdowns and 14 interceptions.
--Field Level Media