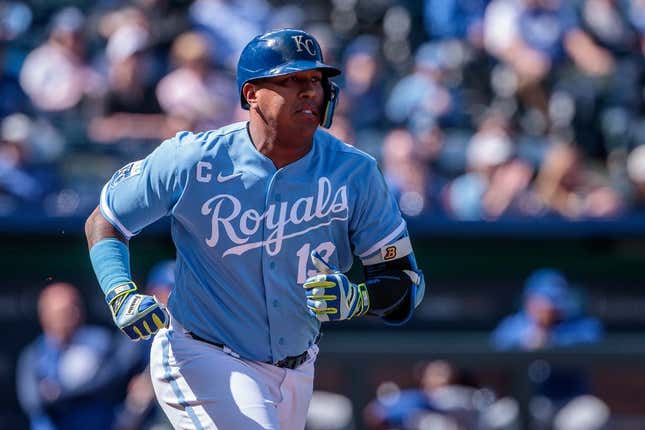 Salvador Perez will continue to attempt to distance himself from Buster Posey on the all-time catchers home run chart when the Kansas City Royals go for a second straight road win over the San Francisco Giants on Saturday afternoon
Bass' ERA stinks, but not compared to who he is off the mound | Worst of the Week Countdown
Perez connected for the 224th homer of his career in the eighth inning Friday, completing the scoring in a 3-1 Royals victory
Making a rare visit to the stadium at which former Giants great Posey hit a majority of his 129 homers as a catcher, Perez increased his total as a catcher to 187, the 19th most in baseball history. Russell Martin is now just one ahead with 188
Perez was made the fourth captain in Royals history last week
"When we think about Royals history from George Brett and Frank White, the way they played the game, the way they taught each other to play the game and their passion for it," Perez said after receiving the honor, "it's something I want to follow.
Vinnie Pasquantino also homered in the series opener for the Royals, who beat the Giants at their own game with a rare power display. San Francisco had begun the day as the major league leader in home runs with 15
All but one of the Giants' homers came in the game following a loss. San Francisco alternated losses and wins in its season-opening, six-game trip to face the New York Yankees and the Chicago White Sox, including hitting five homers on Thursday in a 16-6 blowout of the White Sox
"It's been a little bit of a feast-or-famine thing for our offense so far," Giants manager Gabe Kapler noted after the Friday loss in which Joc Pederson had the team's only extra-base hit, a ninth-inning triple. "We've got to do a better job of being more consistent. It starts with just looking for a pitch that we can drive and then not missing those pitches.
Hoping to end the run of power displays by the Giants following losses will be Royals right-hander Brady Singer (1-0, 1.80 ERA). He will attempt to duplicate a fine effort in a 9-5 home win over the Toronto Blue Jays on Monday. He worked the first five innings, limiting the visitors to one run on two hits
Singer, 26, has faced the Giants just once in his four-year career, going five innings in the Royals' 6-2 loss at San Francisco on June 13, 2022. He did not get a decision after allowing two runs on two hits
Both runs off Singer in that game were walked home.
He is scheduled to be opposed by left-hander Sean Manaea (0-0, 13.50 ERA), who will take his fifth crack at his former organization, this time in a third different uniform.
Manaea will be making his first home start since joining the Giants as a free agent in December. He spent 2022 with the rival San Diego Padres, who picked him up in a trade from the Oakland Athletics before the season
The 31-year-old veteran pitched in relief during the Giants' season-opening trip, going two innings against the White Sox on Monday and allowed three runs and two hits. He did not get a decision in San Francisco's 12-3 win
The Royals' first-round pick in 2013 was dealt to Oakland in 2015, then faced his old mates three times from 2016-21 as a member of the A's, going 2-0 with a 3.63 ERA. He took his lone career loss to his former employer last August while with the Padres, roughed up for six runs and 10 hits in four innings during a 15-7 loss
Over the four starts vs. Kansas City, he is 2-1 with a 5.48 ERA.
--Field Level Media