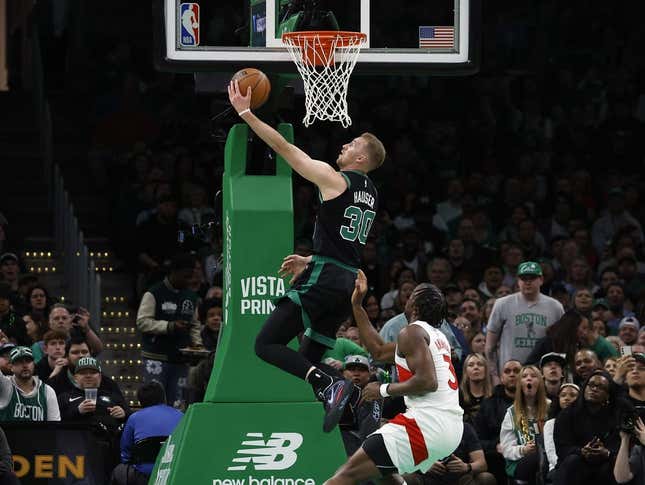 Sam Hauser scored a career-best 26 points and the undermanned Boston Celtics defeated the visiting Toronto Raptors 121-102 Friday night
Air Jordans are more American than McDonald's French fries | Deon Cole's Ultimate Sports Fantasy
Jayson Tatum added 21 points and did not play in the second half for the Celtics (56-25), with the No. 2 seed in the Eastern Conference already clinched
Jaylen Brown (finger laceration), Marcus Smart (neck) and Malcolm Brogdon (back) did not play for Boston.
Boston swept the four-game season series with Toronto (40-41) that included a home win on Wednesday in the opener of the two-game set.
The loss meant that the Raptors will finish ninth in the East and will play the 10th-place Chicago Bulls in the first play-in game on Wednesday
Payton Pritchard added 22 points off the bench for Boston, Derrick White had 12 points and 10 assists, Al Horford added 11 points and Mike Muscala contributed 11 points and seven rebounds. Hauser finished 6-for-12 from 3-point range.
Pascal Siakam scored 19 points for the Raptors. Precious Achiuwa added 16 points, and Fred VanVleet had 12 points and eight assists
Boston took a 22-point lead into the fourth quarter. Hauser's dunk increased the margin to 100-75 with 9:48 to go. Pritchard's 20-footer with 6:23 to go restored a 25-point lead.
Tatum scored 15 points and the Celtics led 34-16 after one quarter
White's dunk increased Boston's lead to 23 points with 8:33 remaining in the second quarter.
Pritchard hit a 3-pointer on a pass from Tatum with 7:07 remaining and the Celtics' lead increased to 50-22. Toronto scored the next five points before Hauser answered with a 3-pointer
Tatum made a layup and a free throw to bump the lead to 62-29 with 3:34 to play. The margin reached 36 before the Raptors had a 9-0 spurt
Boston led 68-40 at halftime. Tatum shot 7-for-12 -- including 7-for-7 from inside the arc -- as the Celtics shot 60 percent (24-for-40) from the field in the first half
Toronto shot 30 percent (15-for-50) percent from the field in the half with VanVleet leading with nine points.
Toronto opened the third quarter with a 17-6 surge, trimming the margin to 17. Hauser's 3-pointer gave Boston an 86-61 lead with 3:39 to play.
--Field Level Media