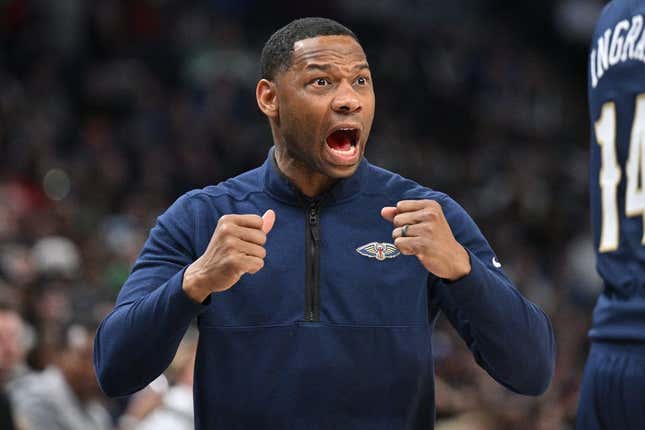 The New Orleans Pelicans displayed last season that they don't need oft-injured Zion Williamson to make a charge in the postseason
Bass' ERA stinks, but not compared to who he is off the mound | Worst of the Week Countdown
That's a good thing, as it appears the Pelicans won't be seeing Williamson on the floor this time around either, beginning with Wednesday's play-in contest against the visiting Oklahoma City Thunder
Williamson injured his right hamstring on Jan. 2 with the recovery period now exceeding more than three months. The No. 1 overall selection in 2019 played just 29 games in the regular season, marking the third time in four NBA seasons that he has played in fewer than 30 games.
And with the most important contest of the season falling on Wednesday -- the losing team is eliminated for the season -- Williamson is out because he doesn't feel he can display his top form.
"I can pretty much do everything," Williamson said Tuesday. "It's just a matter of the level I was playing at before my hamstring (injury). I'm just a competitor. I don't want to go out there and be in my own head and affect the team."
Despite the Williamson drama percolating, New Orleans (42-40) finished the regular season with nine wins in 12 games to claim ninth place in the West. Oklahoma City (40-42) finished 10th. The winner of Wednesday's game will play either the Los Angeles Lakers or Minnesota Timberwolves on Friday for a playoff spot.
The Pelicans thrived without Williamson in the play-in format last season, defeating the San Antonio Spurs and Los Angeles Clippers to land a playoff spot. New Orleans surprisingly gave the top-seeded Phoenix Suns a fierce fight in the first round, twice posting double-digit victories before losing the series in six games
The Pelicans will again rely on Brandon Ingram (24.7 points per game) and CJ McCollum (20.9). However, New Orleans will have to play better than it did Sunday when it fell 113-108 to the bickering Minnesota Timberwolves in the regular season finale
"We fought," Pelicans coach Willie Green said. "We played a solid game. But we didn't do enough down the stretch. We have to be better. We are where we are now. We have to go home and regroup and get back to work.
The Thunder closed the regular season with back-to-back victories and are ahead of schedule in their major rebuilding project
Oklahoma City was a combined 46-108 the past two seasons before making major strides behind a young cast led by Shai Gilgeous-Alexander, who is averaging a team-leading 31.4 points per game.
Few people were expecting the Thunder to be playing after the regular season concluded, and now the team faces the biggest game in Mark Daigneault's three seasons as coach
"This is not an end point," Daigneault said Tuesday. "This is another opportunity along the way as we build something much bigger than just this season or just this point in time. I'm really excited to see how we play and what our best punch looks like in an environment like this."
The impressive group of young pieces include Josh Giddey, Lu Dort and rookie Jalen Williams. Oklahoma City overachieved despite not having No. 2 overall pick Chet Holmgren (foot) for the entire season.
Williams, the 12th overall pick, is looking forward to the bigger stage.
"Being the youngest team, I think it is a really cool and unique experience for us to experience this for the first time," Williams said. "We can learn from this opportunity and kind of get better together. Down the line, I think it can really help us."
The Pelicans won three of the four meetings this season, but Oklahoma City prevailed in the most recent one, 110-96 on March 11 in New Orleans
--Field Level Media