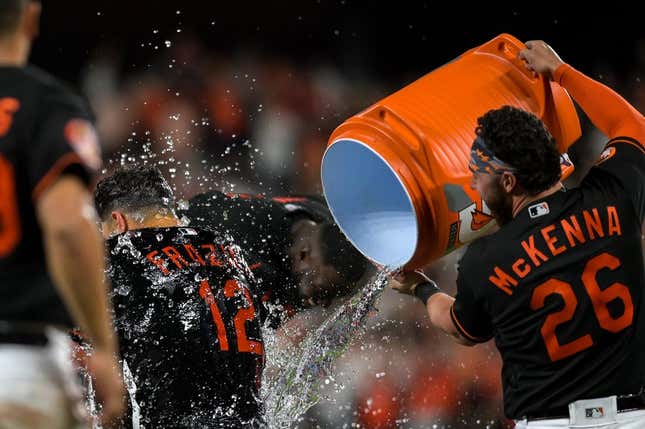 Joey Wentz nearly lost his spot in the Detroit Tigers' rotation before an injury to another starter and a strong outing gave him a reprieve
Bass' ERA stinks, but not compared to who he is off the mound | Worst of the Week Countdown
The left-hander will try to build off that outing when he starts on the road against the Baltimore Orioles on Saturday evening
Wentz had a poor start against the Boston Red Sox on April 8, giving up five runs in 1 2/3 innings. However, Matt Manning sustained a broken foot in a subsequent start, and the Tigers gave Wentz (0-2, 6.39 ERA) another shot
He responded with a solid 5 2/3 innings against the San Francisco Giants on April 14, allowing just one run, on a leadoff homer in the first inning. He walked one batter while recording seven strikeouts.
"Joey Wentz did it all," Detroit manager A.J. Hinch said afterward. "I don't know if he was at his best from a stuff standpoint, but he was at his best from a strike-throwing standpoint. ...
"He continued to pound the strike zone, and that's how you stay in the game and continue to record outs is challenge them. He didn't blink; he kept throwing strikes."
Wentz faced the Orioles once in his first major league season last year and held them scoreless over 5 2/3 innings, recording his second win
He will be opposed on Saturday by Orioles veteran Kyle Gibson (3-0, 4.18 ERA), who has won three of his four starts since joining Baltimore on a one-year contract
The right-hander wound up with a no-decision on April 15 when he gave up four runs and seven hits in 5 1/3 innings against the Chicago White Sox.
Gibson is 10-11 with a 5.84 ERA in 25 career outings (24 starts) against the Tigers
Gibson will try to keep up with the rest of the Orioles' starters. Baltimore held opponents scoreless for 34 consecutive innings until the ninth inning on Friday but still collected its fourth straight win, 2-1 in the series opener
"We've got to be able to win in different ways, for sure," Orioles manager Brandon Hyde said. "We won some games earlier in the year by outslugging. The last three games, we've won because we've pitched extremely well.
The Orioles pulled out the Friday game in the bottom of the ninth with one-out singles from Ryan Mountcastle and Anthony Santander and Adam Frazier's fielder's-choice grounder
"Love to see our guys keep the energy in the dugout, and a really good rally there with one out," said Hyde, whose team has won eight of its past 10.
The Tigers got only three hits in seven innings against Baltimore starter Tyler Wells. Javier Baez ended the Orioles' streak of scoreless innings with an RBI single off closer Felix Bautista with two outs in the ninth
"We had every chance to win the game," Hinch said. "Couldn't really do anything early in the game offensively."
The Tigers played the infield in against Frazier, but first baseman Spencer Torkelson's throw home was late
"No chance of a double play," Hinch said. "We wanted to try to get the out at home, especially on any chopper like that. You're going to react that way."
Austin Hays provided the other Baltimore run with a seventh-inning homer, his fourth long ball of the year. Hays leads the Orioles with 23 hits and 16 runs
--Field Level Media