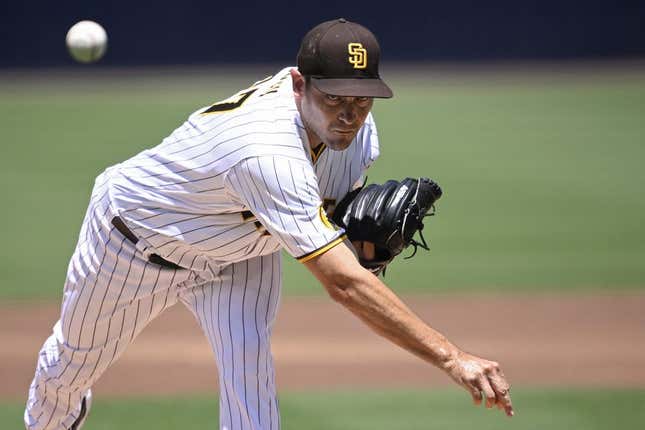 Opportunity was knocking again on Sunday afternoon as the San Diego Padres prepared to meet the visiting Los Angeles Dodgers in the third game of a rare four-game wraparound series that ends Monday afternoon
Is Texas or Florida State a bigger national title contender? | Agree to Disagree
The closest teams that the Padres are chasing in the National League wild-card race lost earlier in the day, which meant they could have pulled within two games of the final playoff berth with a second straight win over the Dodgers
Instead, San Diego starter Rich Hill surrendered six runs in the first two innings and the Dodgers cruised to an 8-2 win
The Padres acquired the 43-year-old Hill at the trade deadline last week to bolster their rotation, and that was before learning that staff ace Joe Musgrove has been shut down for at least three weeks with shoulder inflammation
So the San Diego rotation is Blake Snell, Yu Darvish, Seth Lugo, who starts Monday, Nick Martinez, who might start Tuesday after pitching most of the season out of the bullpen, and..
The lefty Hill? Or right-hander Michael Wacha, who pitched only two innings and threw 46 pitches in what was expected to be a 50-to-60 pitch rehab outing with Triple-A El Paso on Saturday? Or maybe both Hill and Wacha will be in the rotation, with Martinez returning to a bullpen that has recently sprung leaks
"We've got a lot to consider, but we have options," Padres manager Bob Melvin said
One thing is for certain. Lugo (4-5, 3.54 ERA) will be starting for the Padres on Monday against the Dodgers' Tony Gonsolin (6-4, 4.11)
The game is clearly more important to the Padres than the Dodgers. The desperate Padres open a five-game road trip to Seattle and Arizona on Tuesday. The Dodgers appear a shoo-in to make the postseason. They have the second-most wins in the NL and have opened a four-game lead in the division
Gonsolin rebounded nicely from giving up nine runs on nine hits and six walks over 10 innings combined across two straight starts. Against the visiting Oakland Athletics on Wednesday, Gonsolin surrendered just one run on five hits and two walks with three strikeouts in five innings
"I thought Tony's outing was good," Dodgers manager Dave Roberts said. "His fastball played up. Because he had thrown 109 pitches in his previous start, I got him out a little early.
Gonsolin is 5-0 with a 1.25 ERA against the Padres in seven career appearances (six starts), giving up five runs on 20 hits and five walks with 38 strikeouts in 36 innings
Lugo is 1-2 with a 3.04 ERA in eight starts since returning from the injured list after missing about a month due to a calf strain. This will be Lugo's 17th start of the year after being used primarily in relief over the past five seasons with the Mets
Lugo will be facing the Dodgers for the first time this season. He is 2-1 lifetime against Los Angeles with a 3.24 ERA in 16 2/3 innings over 11 games (one start)
--Field Level Medi