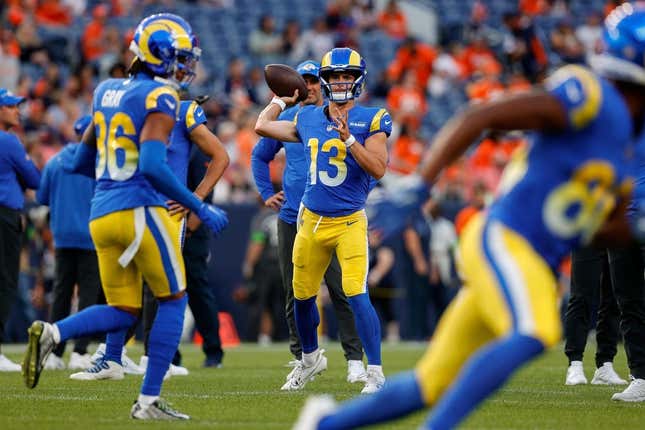 Brett Rypien was signed to the 53-man roster of the Los Angeles Rams for their Week 2 game against the San Francisco 49ers and appears to be set for an extended stay as the No. 2 quarterback.
How running an NFL team is like running a restaurant | Chef Emeril Lagasse
Rypien now is the primary backup to Matthew Stafford and will be active on Sunday for the Rams (1-0), who placed rookie Stetson Bennett on the non-football illness list on Wednesday.
Head coach Sean McVay said the roster move involving Bennett is unrelated to a minor shoulder injury he experienced. McVay said he couldn't share specifics, but said the issue was "bigger than" football.
"Out of respect for him and the situation, I'm going to leave all the specifics and particulars in-house," McVay said. "And I want to be able to do that out of respect for that situation, so I'm not going to really have any follow-up information or anything that I'll give in that regards.
"I really hope that you can please respect my wishes in regards to keeping that in-house. I understand you have a job to do, but there are certain things that I think are a little bigger and a little more important. And out of respect for the particulars and the specifics, we want to keep it in-house, and that's where I want to leave it please."
Bennett played well in the preseason. A fourth-round pick, he won back-to-back national championships at Georgia with a record of 29-1 combined in the 2021 and 2022 seasons.
But Bennett, despite being 25, faced questions about his maturity and readiness for the NFL during the pre-draft process following an arrest for public intoxication.
—Field Level Media