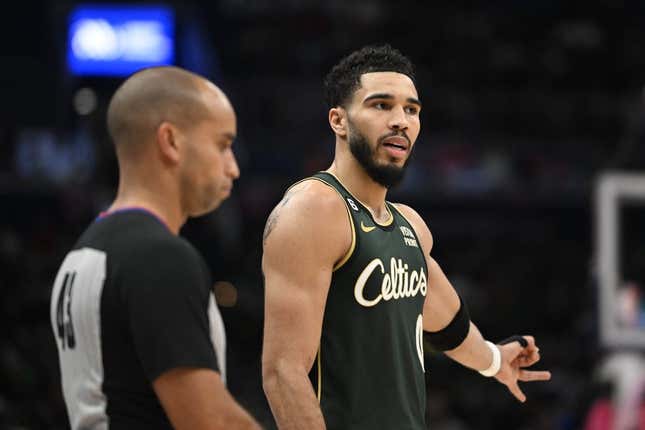 Although the Thursday matchup between the visiting Boston Celtics and the Milwaukee Bucks features the teams with the two best records in the NBA, some of the sizzle surrounding the game disappeared when the Celtics lost 130-111 to the short-handed Washington Wizards on Tuesday
Bass' ERA stinks, but not compared to who he is off the mound | Worst of the Week Countdown
Many figured the Thursday game would go a long way toward determining the No. 1 seed for the Eastern Conference playoffs, but that seems less likely now since the Celtics (52-24) trail the Bucks (55-21) by three games with six games remaining in each team's regular season
"It's not something we can overly control," Boston coach Joe Mazzulla said when asked about the No. 1 seed following the Tuesday loss. "We could have won this game and still not get the No. 1 seed. We can lose this game and get it. I don't really know how it's going to happen because we can't control that."
The second-seeded Celtics were at home when they beat the third-seeded Bucks 109-81 in Game 7 of the Eastern Conference semifinals last season
Boston's Jayson Tatum, who returned Tuesday from a one-game absence caused by a hip injury and scored 28 points, downplayed the importance of home-court advantage.
"In the playoffs, you're going to have to win games on the road at some point," Tatum said after the Washington game. "Last year, we beat the Bucks in Game 6 (on the road). Last year, we beat Miami in Game 7 on the road. So at some point, you're going to have to go on the road and get a win
"Bounce back from this game. I think that's the most important (thing). We got to respond. And I feel like we will play better. We'll come out with more pop. We'll come out with more energy. More focus. Just learning from this game (and) not carrying it on. Move on to the next one."
Milwaukee boosted its lead over Boston by beating the Indiana Pacers 149-136 in Indianapolis on Wednesday. The Bucks received a career-high 51 points from Jrue Holiday, who added eight rebounds and eight assists
"Obviously I'm happy about it," Holiday said. "It took 14 years to get 50 points. Came in a game that we needed to win, so I couldn't be happier."
Giannis Antetokounmpo contributed a triple-double at Indiana, logging 38 points, 17 rebounds and 12 assists.
Thursday's game will showcase three players who are among the NBA's top 10 scorers: Antetokounmpo (fifth, 31.2 points per game), Tatum (sixth, 30.1) and Boston's Jaylen Brown (ninth, 26.8).
Antetokounmpo said earlier this week regarding the Eastern Conference race, "We should take the (No. 1) spot. It always feels good to play Game 7 at home. I think I've never played a Game 7 in my career at home. I've played three Game 7s, all three on the road if I'm not mistaken, so I think just being able to not just have the No. 1 seed in the East but the best record in the NBA and have that home-court advantage against everybody ... that's a good feeling."
The Celtics and Bucks split two games earlier this season, each winning at home. Tatum scored 41 points to help the Celtics earn a 139-118 victory in Boston on Christmas Day, and then Holiday tossed in 40 points to highlight Milwaukee's 131-125 overtime victory on Valentine's Day. The Celtics played without starters Tatum, Brown, Marcus Smart and Al Horford in the latter contest
--Field Level Media