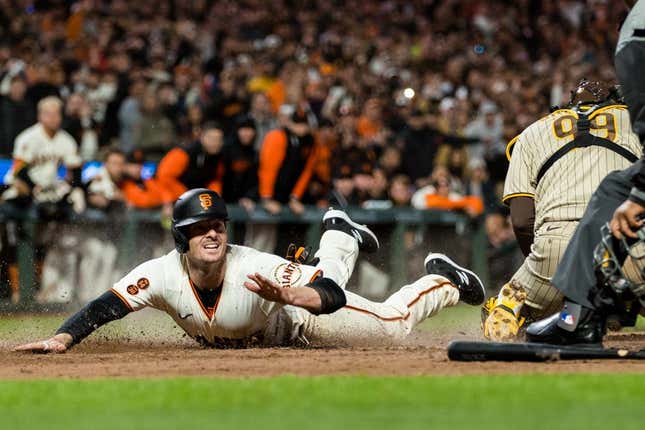 Having just captured a game they never led until the final pitch, the San Francisco Giants will look for a new way to extend their winning streak when they host the San Diego Padres on Tuesday in the second game of a four-game series
How running an NFL team is like running a restaurant | Chef Emeril Lagasse
A pair of 33-year-old right-handers -- the Padres' Seth Lugo (3-3, 4.10 ERA) and the Giants' Anthony DeSclafani (4-6, 4.31) -- are the scheduled starters
The Giants couldn't do much against Padres starter Michael Wacha on Monday, but they teed off against an erratic back end of the San Diego bullpen that was missing closer Josh Hader. San Francisco ultimately completed a comeback that resulted in an eighth straight win
Mike Yastrzemski was the hero of a 7-4 victory with a three-run, walk-off homer in the 10th inning, his second long ball of the night. Even so, Giants manager Gabe Kapler mentioned things like walks, sacrifice bunts and player-advancing fly balls as being just as critical in the victory
"Our team is definitely believing in themselves," Kapler said. "Even when we've been going through much of the game without much success, there's a ton of confidence in the dugout and in the batter's box."
Having scored 72 runs during their winning streak, the Giants will take aim at Lugo, who is set to return from the injured lis
Lugo has been sidelined since straining his left calf while covering first base in the second inning of a game against the Kansas City Royals on May 16. He had limited the Cincinnati Reds and Minnesota Twins to a total of three runs over 12 innings in his previous two starts.
The veteran will be facing the Giants for the 14th time in his career, but for just the third time as a starter, having posted a 2-2 record with a 3.28 ERA in the previous contests
If he needs late help, as Wacha did in the series opener, chances are the Padres will be able to call upon Hader, who was given Monday off after having saved San Diego's wins over the Tampa Bay Rays on Saturday and Sunday. Hader fanned four of the seven men he faced in the two games combined
The conservative approach is working this season for Hader, who has been near perfect -- six innings, four hits, no runs -- in six June appearances, five of which have resulted in saves.
The former All-Star admits he is much more comfortable than he was nearly 11 months ago after being dealt to the Padres in-season by the Milwaukee Brewers
"You just have more of an understanding of how the team works," he said. "You know the guys. You're able to build more friendships instead of not knowing anybody. It's pretty easy to build those relationships."
Seeking a third straight win, the Padres outhit the Giants 10-6 in the series opener and grabbed a lead five pitches into the contest on the first of two Juan Soto home runs
DeSclafani has never allowed a homer to Soto, but he has served up one apiece to Fernando Tatis Jr. and Manny Machado during a career in which he has pitched well against the Padres, going 3-1 with a 2.42 ERA in nine starts. San Diego's Matt Carpenter is 13-for-29 (.448) with four lifetime homers vs. the San Francisco veteran
DeSclafani started the Giants' 8-5 win over the St. Louis Cardinals on Wednesday, but he lasted just three innings, allowing five runs. He has been roughed up for 13 runs (12 earned) over just 12 innings in his three June starts
--Field Level Media